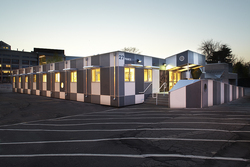 "When you walk inside there is an immediate sense that this is a healthy environment. That's a good comfort for parents and staff," said Peter/Mark Anderson of Anderson and Anderson in San Francisco, who designed the Harvard Yard Child Care Center.
Littleton, MA (PRWEB) March 22, 2011
Triumph Modular Incorporated, the Northeast's premier provider of high quality relocatable and permanent modular buildings, has received two Awards of Distinction and Best of Show from the Modular Building Institute (MBI). The company was recognized with a first place award in the "Green Building" category for its innovative Harvard Yard Childcare Center building, first place award for "Temporary Modular: Education 2,000 sq. ft. to 10,000 sq. ft." and Best of Show for the Harvard Yard Childcare Center.
The Best of Show and "Green Building" award winner is an eight module, 5,760 square-foot childcare center, installed on the campus of Harvard University in just six weeks. For eighteen months, this modular school building first housed the Harvard Yard Child Care Center and then the Oxford Street Daycare Cooperative while their permanent locations were being renovated. Now that the permanent childcare facility renovations are complete, the building will be relocated, repurposed and reused at another local university. Read more details about this modular building project here.
The "Green Building" award is judged on 8 criteria:
1. Thermal Comfort
2. Indoor Air Quality
3. Day Lighting
4. Acoustics
5. Energy Efficiency
6. Resource Efficiency
7. Architectural Excellence
8. Economic Practicality
The "Temporary Modular: Education" 2,000 sq. ft. to 10,000 sq. ft. winner is also a green relocatable building. The City of Newton placed an emphasis on reaping the benefits of a sustainable, high efficiency modular building for a classroom expansion at the Oak Hill Middle School. In general, this Modular Classroom Building was designed to meet the goals of Massachusetts High Performance Schools Protocols (MA CHPS), including the integration of 'Air Barrier' construction, daylight harvesting, minimized HVAC systems, and many other 'Green' features. An integrated life cycle analysis informed system selections to ensure maximized efficiency.
The "Temporary Modular: Education" award is judged in 5 areas:
1. Architectural Excellence
2. Technical Innovation
3. Cost Effectiveness
4. Energy Efficiency
5. Calendar days to complete
The MBI Awards of Distinction contest is the commercial modular industry's premier awards program, offering competition in over 30 categories for MBI members: building manufacturers, dealers, and product and service providers. Entries are temporary, permanent, and renovated modular buildings as well as industry marketing pieces. Each entry is reviewed by an impartial panel of industry and non-industry construction and code experts, architects and engineers, and marketing professionals
About Modular Building Institute (MBI)
Founded in 1983, the Modular Building Institute is a non-profit trade association serving the commercial factory-built buildings industry on an international scale. It is the MBI's mission to grow the industry and its capabilities by encouraging innovation, quality, and professionalism through communication, education, and recognition.
About Triumph Modular Corporation
Formed in 1981, Triumph Modular Incorporated of Littleton, Massachusetts is a specialty general contractor and source for leasing temporary space and installation of custom permanent commercial modular buildings. We provide all types of building space, from relocatable to complex multi-story permanent modular buildings. For more information, please visit http://www.triumphmodular.com.
###