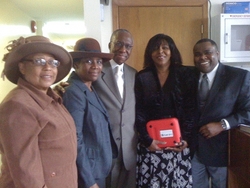 (PRWEB) March 23, 2011
The Apple Creek Seventh-Day Adventist Church dedicated their new Automated External Defibrillator to God on March 12, 2011. Dean Turner and Shyamala Nathan-Turner of F.A.S.T. Rescue Inc. were proud to be a part of the celebrations where Dean explained the benefits of this device and its ease of operation to the Apple Creek congregation of approximately 1000 people.
"We have been very lucky to have worked with the Apple Creek Seventh-Day Adventist Church for many years" says Dean Turner, President of F.A.S.T. Rescue. "They have an amazing group of people leading their Health Ministry team who are forward looking and work hard to ensure the health and safety of this congregation."
"I am deeply appreciative for the vision and foresight of the Health Ministry Department of the Apple Creek Seventh-day Adventist church under the capable leadership of Ms. Walda Clarke." states Pastor Martin. "This life-saving device will increase our response capability and effectiveness in the event of a life threatening cardiac emergency. Many thanks to Dean Turner for taking the time to explain the pertinent features of this device to our congregation."
Walda Clarke, Leader of the Health Ministry Department adds:  "The decision to acquire an AED  was an easy one to make, as the Health Ministry Team has the well-being of our large congregation and community served, at heart.  The church  and community members supported a fundraising Walkathon last year and the funds  were specifically earmarked  for the purchase of this device.  Health Ministry Team is well aware of the benefits of the AED and the importance of having up to date equipment and training.  Consequently the team has worked with F.A.S.T. Rescue  over the years, to offer First Aid training to church  and community members.  Additionally, we rely on F.A.S.T. Rescue, to review our First Aid supplies, to ensure that all is in order.  The partnership with F.A.S.T. Rescue is a valued one, so when the time came to purchase the AED, there was no question about where to turn.  We are also secure in knowing that they stand behind their products and will provide any necessary support."
Each year, more than 45,000 Canadians suffer from a sudden cardiac arrest, which is when an individual's heart stops beating. The casualty usually loses consciousness and blood flow to the brain and vital organs is cut off. If the heart is not restarted within a few minutes, brain damage and death occur. Of those who have suffered from a sudden cardiac arrest outside of a hospital setting, less than 5% survive to hospital due to delays in recognizing the cardiac emergency and access to appropriate care.
Research has demonstrated that early defibrillation using Automated External Defibrillators is a vital step in reducing premature death from sudden cardiac arrest in Canada. The survival rate from sudden cardiac arrest without CPR is zero and for every one minute delay in defibrillation, the survival rate of a cardiac arrest victim decreases by 7-10%.
Early intervention is vital. Early CPR and defibrillation within the first 3-5 minutes after collapse, plus early advanced care, can result in high long-term survival rates. These rates can range from 50-80%, which in Canada, means saving the lives of 2,000-4,500 adult and pediatric victims each year. Accessibility to AEDs' in public areas is key to ensuring the survival of people suffering from sudden cardiac arrest.
###