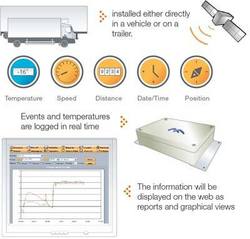 "It is useful when pitching for new business," says McLuskey. "Thanet Earth liked the fact that they can check the temperatures themselves."
Leeds, UK (PRWeb UK) March 23, 2011
Masternaut's real-time temperature monitoring system Mastercold can give distribution firms a competitive edge when it comes to winning new business, according to Buckinghamshire-based Ocean Trailers.
Mike McLuskey, Operations Director of Ocean Trailers, says the Mastercold system, which is integrated with Masternaut tracking, helped the company clinch a contract with salad crop greenhouse complex Thanet Earth last year.
"It is useful when pitching for new business," says McLuskey. "Thanet Earth liked the fact that they can check the temperatures themselves."
Mastercold provides a continuous log of temperatures in real-time via the Masternaut tracking system, alerting users the moment a chamber is out of the required temperature range. The system eliminates the need for conventional temperature recorders and dataloggers. Mastercold links with the Masternaut web interface and displays the temperature load information as reports and informative graphics.
Ocean Trailers, which runs a mixed fleet handling ambient, chilled and frozen transport, has Mastercold fitted on its 19 single-temperature refrigerated trailers. The company can transport products throughout the entire temperature range, from minus 30 degrees Celsius to plus 30 degrees Celsius.
Customers on its chilled distribution operation include yoghurt company Yoplait, Danone and Sainsbury's. Mastercold integrates temperature information with tracking data providing an audit trail with proof of load temperature.
###