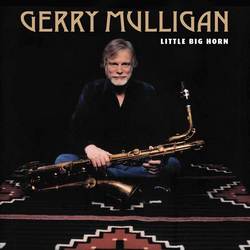 "There are many basic ways of hearing jazz – mine will always be the melodic." - Gerry Mulligan
Darien, CT (PRWEB) March 24, 2011
Lancia Media Factory is proud to announce the release of "Little Big Horn" by the legendary baritone saxophonist Gerry Mulligan. Recorded in 1981 with a first-rate ensemble, the album features six Mulligan compositions written for big band, small combo, and vocal performance – all featuring his distinctive melodic approach to arrangement and improvisation.
"Little Big Horn" exemplifies Gerry's career-long tradition of innovation by exploring new writing styles while maintaining the intuitive sense of melody that makes his music so accessible. "People always said that I play the baritone like a little horn," he explained. "With this album, I attempted to create the illusion that it's not playing in the low register by concentrating on its qualities as a melodic instrument. There are many basic ways of hearing jazz – mine will always be the melodic."
Joining Gerry is a stellar lineup with Dave Grusin on piano, Anthony Jackson: electric bass, Jay Leonhart: acoustic bass, Buddy Williams: drums, Richard Tee: piano, Marvin Stamm and Alan Rubin on trumpets, Keith O'Quinn: trombone, Lou Marini: alto saxophone, and Michael Brecker on tenor saxophone.
As a composer, arranger, bandleader, and instrumentalist, Gerry Mulligan left an indelible mark on the history of jazz. He played with Charlie Parker, Dizzy Gillespie, Sarah Vaughn, and as composer and player was an important collaborator on Miles Davis' hallmark "Birth of Cool" album. His pianoless quartet - an innovation that continues to influence jazz musicians – became the focal point of the West Coast Jazz movement and often toured with Duke Ellington. The quartet featured Chet Baker on trumpet, Carson Smith on bass, and Chico Hamilton on drums with later groups featuring Bob Brookmeyer, Zoot Sims, Art Farmer, and Red Mitchell.
One of the most important saxophonists in the history of Jazz, a Grammy Award winner, and an astonishing winner of 29 consecutive Downbeat Magazine Readers' Poll Awards, Gerry Mulligan continued to lead bands until his death in 1996.
"Little Big Horn" is available from Lancia on audiophile-grade vinyl, and for the first time ever as a 24/96 HD and MP3/AAC download. The track listing is as follows:
1. Little Big Horn
2. Under a Star
3. Sun on Stairs
4. Another Kind of Sunday
5. Bright Angel Falls
6. I Never Was a Young Man
Lancia Media Factory is a media content company formed in 2010 that specializes in new recordings and important reissues. The company's goal is to produce affordable recordings of exceptional artistic and technical merit. To this end, Lancia's albums are available on audiophile-grade 180g vinyl and as HD digital downloads and priced at $7.98.
# # #