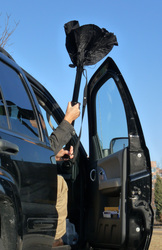 I have never seen a more ground-breaking invention in my career! After viewing the first prototype, which was invented and patented by a U.S. military aircraft mechanic, I knew that I wanted to be involved with this product
New York, NY (PRWEB) March 22, 2011
BRP International has brought a revolutionary new product to market—the Inbrela, an innovative umbrella that collapses into a cylinder when closed to keep people, car interiors and belongings dry after coming in from the rain. This invention solves the age old problem of using an umbrella to avoid getting wet in the rain, only to get soaked by the runoff when closing the umbrella.
"I have never seen a more ground-breaking invention in my career! After viewing the first prototype, which was invented and patented by a U.S. military aircraft mechanic, I knew that I wanted to be involved with this product," states Robert Russo, President of BRP International, the marketing and consulting company responsible for bringing the Inbrela to a worldwide audience through QVC, the home shopping network, and other sales channels.
At a suggested retail price of $29.95, this invention is affordable convenience at its best. The unique design makes getting in and out of cars and doorways much easier. With a simple push, the Inbrela pops out of its tube and opens away from your face. Then, it pulls easily back into the tube to close, keeping you, your car, and your surroundings dry. And the flexible aluminum ribs won't snap in the wind.
BRP International has a reputation of recognizing unique products not only for what they are, but how they can be made better. By working closely with small and large businesses, as well as select inventors, and developing a hands-on relationship with each product they represent, they are able to facilitate successful television and marketing campaigns for the product. They have the contacts and connections to execute the sales channels to a worldwide network of home shopping networks, infomercial companies, catalogs and retail chains.
"My first challenge with taking on this unique umbrella was to re-design the existing prototype and make it look more high-tech and unlike any other umbrella on the market. After completing the new prototype, BRP International organized the tooling and manufacturing for the product in China while at the same time branding the product name to Inbrela. BRP International then pre-sold Inbrela to the QVC home shopping network and is now seeking out other marketing channels," adds Russo.
BRP International is a marketing, consulting and sales company, representing manufacturers of consumer products to all classes of wholesale and retail trade, including QVC and HSN home shopping networks, infomercial companies and direct response TV. Working directly with the buyers at HSN and QVC worldwide and with a broad base of U.S. and international operating experience in consumer products, BRP International offers large and small start-up companies the opportunity to develop and expand their business in the U.S. and internationally through their established sales and marketing channels. BRP International can also provide outstanding strategic planning, product development and package design.
For more information about launching a new invention, or for a consultation about expanding an existing product's market, contact BRP International through their website.
About Robert Russo and BRP International:
Robert Russo, President of BRP International, has over 20 years of experience in marketing, advertising and sales. He has personally represented Fortune 500 companies, such as Amoco, Minolta and Teledyne and has also worked with lesser-known companies helping to develop their products into international brands. He travels internationally and maintains close relationships with his U.S. and international clients.
BRP International is a private marketing, consulting and sales company based in New York City, connecting manufacturers to distributors, retailers, QVC, HSN and infomercial companies worldwide.
# # #