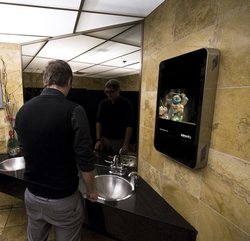 The launch of Newad's new digital boards, made possible by Scala's technology, is a significant step in the continuous growth of our company.
Toronto (PRWEB) March 22, 2011
Scala, the leading provider of end-to-end software solutions for digital signage and advertising management, announces a new installation for Ad Manager and Scala 5 with Newad, Canada's leading indoor advertising network.
Scala Ad Manager will manage more than 20,000 digital and classic Newad boards in more than 2,500 establishments across Canada. The network delivers an impressive 36.5 million impressions per week to its "Young and Affluent" target audience.
Newad's continuous growth plans include an additional 3,500 digital boards to be installed in six major cities across Canada over the next three years — an investment worth more than $8 million. The Scala Ad Manager and Scala 5 software solution has been integrated with both traditional and digital media to manage and schedule ads, provide billing and leasing capabilities, and deliver a proof-of-performance report at the end of the day.
The new generation of digital boards boasts a 22-inch high-resolution LCD screen with full stereo sound, and broadcasts 15- to 60-second audio/video loops almost instantaneously. Loops are interspaced with exclusive content clips designed for the target market's lifestyle and interests (music, video, fashion and events, for example). The boards can be programmed with RSS feeds or HTML to integrate new information or update campaigns.
"Newad took the time to source the best competitive solution for them, Scala," said Andy McRae, General Manager, Scala Canada. "We are proud to have met their requirements and to be working together to deliver a truly unique and powerful enterprise solution to grow their business."
"The launch of Newad's new digital boards, made possible by Scala's technology, is a significant step in the continuous growth of our company," said Philippe Marchessault, Executive Vice President of Operations, Development & Innovation for Newad. "Newad offers advertising agencies and their clients a flexible ad platform that is perfectly adapted to their needs."
Known for their premium reputation and trendsetting clientele, Newad continues to develop creative solutions that aid advertisers in reaching a coveted target market notorious for its evasion of traditional media.
About Newad
Newad reaches the highest concentration of the Young & Affluent in Canada by guiding its millions of consumers to four targeted platforms: Indoor, with 20,000 digital and classic boards in over 2,500 establishments and 36.5 million impressions delivered per week; Experiential Marketing, with the production of 250 promotional events a year; Publishing, with hundreds of digital productions each year as well as the NIGHTLIFE.CA magazine and website reaching 200,000 Montrealers every month; and Web, including the design and production of websites, microsites and mobile applications. Newad's 350 employees set the trends in our Montreal, Toronto, Vancouver, Edmonton, Calgary and Moncton offices. Newad has won numerous awards for its creative, innovative campaigns. http://www.newad.com
About Scala
Driving more than 500,000 screens worldwide, Scala is a leading global provider of digital signage and advertising management solutions. Scala is the world's first connected signage company, offering the leading platform for content creation, management and distribution in digital signage networks and the first unified platform for advertising management of both traditional and digital signage networks. The company's digital signage customers include Rabobank, IKEA, Burger King, T-Mobile, Virgin MegaStore, Warner Brothers, The Life Channel, Rikstoto, Repsol, NorgesGruppen, Audi, ECE Flatmedia, Kaufhof (Metro Group) and thousands more. Advertising management customers include CBS Outdoor, Clear Channel Outdoor and Magic Media, among others. Scala is headquartered near Philadelphia, USA, and has subsidiaries in Canada, The Netherlands, France, Norway, Germany and Japan, as well as more than 450 partners in more than 60 countries. More information is available at http://www.scala.com.
©2011 Scala, Inc. 350 Eagleview Blvd. Exton, PA 19341. Scala and the Exclamation Point Logo are registered trademarks of Scala.
###