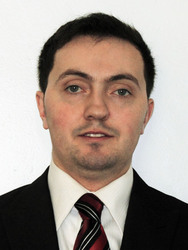 Add a quoteDr. Halaciuga's technical expertise will insure that we fully realize that potential by offering customers the highest quality products - Gary Hemphill, VP,GM, Technic Engineered Powders Division
Woonsocket, RI, USA (PRWEB) March 23, 2011
Technic Engineered Powders Division is pleased to announce the appointment of Dr. Ionel Halaciuga as Research & Development Director. Dr. Halaciuga's responsibilities will include developing new and innovative products that will allow the Engineered Powders Division to maintain its position as a world class provider of precious metal powders and flakes.
Dr. Halaciuga has recently completed a postdoctoral assignment at Clarkson University (Potsdam, NY). While at Clarkson, he worked on a number of projects related to synthesis, characterization and modification of metal and metal compound particles. The most notable were to develop improved metal coated polymer particles, and spherical silver particles resulting in a number of patents.
Dr. Halaciuga earned his PhD with Distinction in Physics (Materials Science) from Clarkson University (Potsdam, NY, USA). Dr. Halaciuga has published a number of articles in peer-reviewed journals, and has been granted several patents while at Clarkson. Dr. Halaciuga also holds a Bachelors Degree in Medical Physics from Babes-Bolyai University, Cluj-Napoca, Romania.
"Technic's Engineered Powders Division is poised for significant and sustained growth in the foreseeable future. Dr. Halaciuga's technical expertise will insure that we fully realize that potential by offering customers the highest quality products and most innovative engineered Powders and Flakes."

Gary Hemphill, Vice President & General Manager,Technic Engineered Powders Division
####