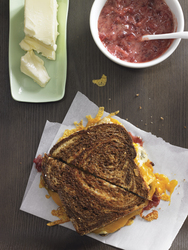 Madison, WI (PRWEB) March 25, 2011
Grilled cheese is a simple concept, yet the many, varied ways to craft the ever popular sandwich are enough to keep you occupied in the kitchen for hours. This April, choose some bread and your favorite Wisconsin Cheese, and join the Wisconsin Milk Marketing Board (WMMB) in celebrating National Grilled Cheese Month.
WMMB is joining forces with grilled cheese expert and author Laura Werlin. Werlin's newly available second book about grilled cheese, "Grilled Cheese, Please!" feature 50 new recipes—from basic to creative, from nostalgic to modern, from ethnic to all-American, and from savory to sweet. Werlin, of San Francisco, is the James Beard Award-winning author of four books about cheese, including her classic, "The Great Grilled Cheese." So get your spatula ready for flipping, and test out her new, fresh-from-the-skillet, grilled cheese creations:
Chips & Guacamole Grilled Cheese – the basic sandwich bread gets an upgrade with a butter and crushed tortilla chip coating. Inside, Wisconsin Colby and Monterey Jack melt around between bacon and guacamole for a combination of flavors sure to please.
Double Cheddar and Tomato Jam – this recipe combines re-interprets the love of grilled cheese and tomato soup with a tangy tomato jam spread inside a grilled Cheddar Cheese sandwich.
The Wisconsinite – this sandwich pays homage to several Wisconsin greats: the Wisconsin Original Colby, the home of the Mustard Museum and the abundance of cranberries produced in the state. Together, the ensemble of ingredients creates a grilled sandwich with sweet, tangy and earthy flavors.
Don't be shy about trying new tips and tricks next time you bring out the frying pan. Werlin shares her foolproof method for great grilled cheese – guaranteed to deliver crisp bread and perfectly melted cheese with every sandwich.
Grate-ful Cheese: Grated cheese melts faster and more evenly than sliced cheese – the grating ensures the perfect melt before the sandwich burns. Choose an easy melting cheese, such as Cheddar, Fontina or Gouda, for maximum melt.
Buttered-up Bread: Use salted butter for the best flavor, and butter the bread, not the pan. Thinly sliced bread and soft butter work best.
Low and Slow: Don't rush the cooking process. Grill sandwiches slowly over medium heat; watch carefully for maximum melt and crispy bread.
Cover and Cook: Cover the sandwich during the cooking process to lock in the heat. This will help the cheese melt faster and more evenly.
Press, Flip, Repeat: Use a spatula to press down firmly on the sandwich while cooking; flip the sandwich twice (pressing with each flip) to ensure crisp bread and thoroughly melted cheese.
Visit http://www.EatWisconsinCheese.com/GrilledCheese for additional recipes, tips and information about Werlin's book.
###