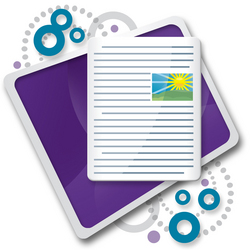 "We wanted to extend the use of the application to anyone, regardless of their experience with design software. The Mac App Store gave us the ideal distribution method to extend the reach of the Creator-software family out to individual users."
Peoria, Illinois (PRWEB) March 23, 2011
MultiAd has released Creator Express, a powerful graphics and text application that includes all the tools a user needs to create everything from simple flyers to professionally designed publications. The program is based on Creator Professional, a leading application for design experts in the publishing industry. Creator Express is now available exclusively to Mac users from the Mac App Store for $29.99.
"Creator Professional has long been relied upon in the publishing industry for its toolset that is built for streamlining productivity," said Jim Douglas, CEO of MultiAd. "We wanted to extend the use of the application to anyone, regardless of their experience with design software. The Mac App Store gave us the ideal distribution method to extend the reach of the Creator-software family out to individual users."
Creator Express is the ideal program for those requiring professional-looking design or page layout results. The software combines design, illustration and production tools in one application. The Creator-family of products has been recognized for its user-friendly interface layered on to a robust feature set since 1989. Creator Express gives users of all levels of design experience the ability to create unique designs quickly.
The most popular features from Creator Professional remain intact including the ability to create custom shapes and drop images into the shapes for simplified cropping, vectored drawing tools, text and object style models, and multiple file format export options. Additionally, Creator Express supports OpenType® fonts and provides automatic CMYK-RGB conversions so the user can place a graphic of any color format and the software will adjust the image for the intended output.
The application is available exclusively on the Mac App store.
About MultiAd
Since 1945, MultiAd has been a leading provider of advertising products and services with a progressive, client-centered approach. MultiAd offers a portfolio of solutions designed to increase productivity and revenue including: mobile application development, custom web application development, Creator Professional, Creative Outlet, Recas®, Kwikee®, ePublish (interactive online versions of print publications) and several self-service advertising solutions. For more information on MultiAd, visit http://www.multiad.com.
Note: MultiAd, Kwikee and Recas are registered trademarks of MultiAd, Inc. Apple and the Apple logo are trademarks of Apple Inc., registered in the U.S. and other countries. Mac App Store is a service mark of Apple Inc.
###