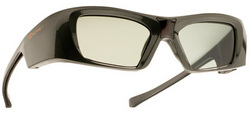 San Luis Obispo, CA (PRWEB) March 28, 2011
As more consumers are watching 3D sporting events, recently released 3D movies and other newly available 3D content on their home 3D TVs, it is important to understand what product features are essential in providing the best 3D viewing experience.
A newly released product comparison chart for active shutter 3D glasses will help consumers to identify products that deliver the best fit, comfort and functionality.
Since 3D glasses are typically worn for two hours at a time while viewing movies, sports and other 3D content, the need for proper fit and comfort is essential.
For the following reasons, one of the highest rated 3D active shutter glasses available on the market today is the 3ACTIVE brand by Dimensional Optics:

Lightweight frame allows for a comfortable fit.
Wide temples block peripheral light for quality viewing.
Full frame design protects the active LCD lenses and improves viewing.
Glasses are rechargeable, so no need to constantly replace batteries.
Product Comparison Chart: http://www.dimensionaloptics.com/active-compare.aspx
3ACTIVE 3D glasses not only provide the highest quality 3D viewing experience, they also have the lowest retail price of all major brands.
At $85 including free shipping, the consumer can save more than $115 over other brands with comparable product features. That's a great value to be aware of when investing in a 3D TV for your home.
Website: http://www.dimensionaloptics.com
###