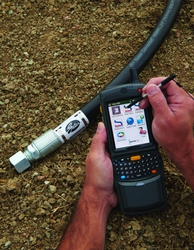 Denver, CO (PRWEB) March 23, 2011
The Fluid Power unit of Gates Corporation, a leading manufacturer of industrial and automotive products, has launched Sentry™ Services, breakthrough hose monitoring, diagnostics and identification services that help OEMs, distributors and end users maximize the productivity of hose assemblies and minimize costly downtime.
Companies that depend on fluid power equipment at construction sites, mining operations, wind farms, marine facilities, offshore platforms and beyond will use Sentry™ IQ and Sentry™ ID, the complementary components of Sentry Services, to track the condition and performance of hose assemblies and prevent hose failure. This helps eliminate equipment downtime, which can cost anywhere from thousands to hundreds of thousands of dollars per hour for critical end-user applications.
Sentry IQ monitors real-time diagnostic information about the operating condition and performance of hose assemblies, continuously measuring temperatures, pressures, impulse cycles and more to calculate remaining hose life and identify hoses for replacement before failure occurs.
Sentry ID is a unique, radio frequency (RF) tagging system that allows field service personnel, mobile equipment operators and fleet managers to identify and track specific hose assemblies operating worldwide. It facilitates quick location, repair and replacement.
For additional information about Sentry Services, visit http://www.gatesprograms.com/news_sentry.
About Gates Corporation
Celebrating its 100th anniversary, Gates Corporation (gates.com) is one of the world's leading manufacturers of industrial and automotive products, systems and components with operations in 29 countries. Gates maintains sales and marketing operations in every major industrial and automotive market, including North and South America, Europe, Asia, Australia and the Middle East. Gates is part of the Industrial & Automotive group of Tomkins plc, which is owned by a consortium comprising Onex Corporation and the Canada Pension Plan Investment Board. Tomkins enjoys strong market positions and technical leadership across all of its business activities and owns some of the best-known brands in their respective markets.
###