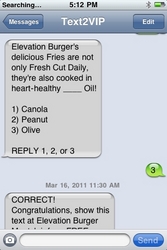 Text2VIP provides Elevation Burger effective campaigns with easily quantifiable ROI. James Stewart, Elevation Burger Creative Fund and Brand Manager
Atlantic City NJ (PRWEB) March 23, 2011
Text2VIP, the text message marketing solutions provider, today announced that Elevation Burger has selected Text2VIP as its vendor of choice to power robust and enhanced mobile marketing campaigns for Elevation Burger franchisees throughout the U.S.
"Text2VIP began managing and executing SMS marketing campaigns for individual Elevation Burger locations as far back as 2009", said Paul Faherty, managing partner at Text2VIP. "Since the success of those earliest SMS campaigns, we've been extremely fortunate to add Elevation Burger locations around the U.S." Text2VIP works with a number of brands in the fast casual and QSR space, according to Faherty. "But the Elevation Burger brand really sets itself apart. From tremendous food quality and value, to an ever-present commitment to environmentally sustainable practices. We're excited that the paperless SMS coupons, alerts, trivia and polling we execute on their behalf, are consistent with their philosophies."
In store call to action creative provided by Text2VIP gives Elevation Burger guests the ability to "opt-in" via text message and receive future exclusive offers a few times each month from their preferred locations.
"Text2VIP offers both a superior product and presentation. They give our eco-friendly, paperless marketing campaigns a high degree of professionalism and provide expertise in the field of mobile marketing to help merchants design effective campaigns with easily quantifiable ROI", according to James Stewart, Elevation Burger Creative Fund and Brand Manager
About Text2VIP: Privately held Tex2VIP is headquartered in Atlantic City, NJ and began licensing additional territories in 2010. The mobile marketing firm provides a comprehensive text message marketing solution for independent business owners. Additional clients include the LPGA, Skinny Water, Bare Feet Shoes, Dairy Queen, Chick-fil-A, Subway, Smoothie King, Great Clips, Rainbow International, Firehouse Subs, Flip Flop Shops, Apricot Lane Boutique, Salad Creations, Rita's Ice, Jet's Pizza, and Moe's Southwest Grill. For more information, visit http://www.text2vip.com or call 888-813-8398.
About Elevation Burger: The idea for Elevation Burger was conceived by Hans Hess in 2002. The first Elevation Burger opened in Falls Church, Virginia in September 2005 and quickly gained national acclaim. Driven by their passion to bring organic, sustainable and fresh food to a national audience, Hans and his wife, April, created Elevation Franchise Ventures, LLC, which began franchising Elevation Burger restaurants in 2008. There are currently Elevation Burger locations in: Falls Church and Arlington, Va.; National Harbor and Potomac, Md.; Montclair and Moorestown, N.J.; Wynnewood and Collegeville, Pa.; Coral Springs, Fla.; and Dallas and Austin, Texas. All are franchised locations except the Elevation Burgers in Falls Church and Potomac. The franchise expects to open locations in Southern California and Las Vegas by the end of 2011.
###