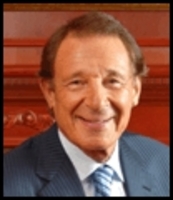 The team of Peter Thomas and IFS are set to take the business world in Canada by storm!
Mesa, AZ (PRWEB) March 22, 2011
Entrepreneur, Philanthropist and Best-Selling Author Peter H. Thomas has acquired the Canadian rights to franchising corporation International Franchise Solutions (IFS), which has built up many brand names in its history, as has Mr. Thomas in his nearly half century as a businessman.
In many ways this is an ideal partnership, for both Mr. Thomas and IFS have sought to share their marketing, branding, and business acumen with companies across the globe. Mr. Thomas' dedication to helping young entrepreneurs, in a spirit of giving back to the community at large which he values so much, will surely help catapult IFS Canada to prominence as a socially-concerned, community-oriented organization.
A man who believes in "aligning your everyday decisions with your values, and applying it to your everyday business philosophy," Peter Thomas is unshakably optimistic as he shares his wisdom with young business owners and professionals, and in a market that needs positive thinkers more than ever. With IFS he plans to use the template that organization has used to build recognizable brand names in the U.S.
In a December 2010 Phoenix Journal of Business Executive Profile, Thomas cites his core values as "health, freedom, happiness, and integrity." The article goes on to essay some of his personal and professional advice, including, "Everything is attitude. When change comes, you can fight it, or you can bend. You must be able to bend the way the wind blows."
Known for developing the Four Seasons Hotel and Century 21 Real Estate brands, Thomas believes in value-based principles, crystallized in his non-profit organization LifePilot, which he conceived as a sort of operating manual for life. His keen sense of balance and alignment in one's aims in life seem to have the Midas touch in the business world. But Thomas' modus operandi goes far beyond monetary profit--it's solidly rooted in what truly matters and is important in a community.
When one considers the potential when the philosophies of IFS--a company which has capitalized on the greatest marketing tool ever created, the franchise--and the "giving back" credo of Peter Thomas, one can see the tremendous implications and possibilities.
Having made Century 21 into one of the top real estate companies in Canada, Thomas is certainly set to do great things with the brand's Canadian imprint. International Franchise Solutions cornered the secret to huge business growth early on, evidenced in a key statistic: Only 8% of businesses are franchised, yet those businesses own a 40% share of the overall market!
Greatification.com heralds the five foundations of Mr. Thomas - Values, Focus, Visualization, Inspiration, and Reflection, which can be seen as a kind of recipe or foundation for entrepreneurial success. Combined with the franchising expertise and track record of IFS, the team of Peter Thomas and IFS are set to take the business world in Canada by storm!
###