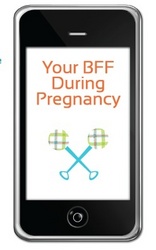 "We created a funny, mom-to-be iPhone app that dishes out real-life advice each week, just enter your due date and we do the rest. No more research, anxiety or tears," says creator, Allison McDade.
Austin, TX (PRWEB) March 22, 2011
Parent Prep School today announced the launch of "Your BFF During Pregnancy" application for iPhone® and iPod Touch®.
This new application gives expectant parents practical and humorous tips each week of the pregnancy journey, offering "tried and true" advice from two experienced Moms. The content includes links to medical advice, practical, how-to instructions on many topics, and several other tips (the kind that only friends can provide during the 40 weeks of pregnancy and beyond). . This is the only app of its kind that comes in a weekly update format that synchs directly with your iPhone or iPod Touch calendar. Just enter your due date and the app does the rest. Parent Prep School's Your BFF During Pregnancy app is now available at the iTunes Store http://itunes.apple.com/us/app/parent-prep-school for $4.99.
Information released by BabyCenter® revealed the use of technology among moms has drastically increased in just a few years, with 92 percent of moms saying they take their cell phone/smart phone everywhere. Nearly 50 percent are interested in technology that empowers them to be better moms and use technology to manage day-to-day activities. Parent Prep School's Your BFF During Pregnancy application does just that.
Application features include:

Weekly reminders that pop up with necessary to-dos: Start budgeting, register for CPR class, install car seat, etc.
Suggestions of what research materials are really helpful: If you could only buy three books, buy these: Expecting411, Baby411, Baby Bargains: Secrets to Saving 20%-50%
How to care for yourself post-pregnancy: Get the Tucks, bring disposable undies to the hospital (who wants to wear icky hospital paper undies), and have frozen cabbage or frozen peas in the freezer to stuff your bra – yes stuff your bra (try it you will feel much better).
Getting the Right Gear: From strapping on the baby carrier to crib set up, from safety tips to putting together the Pack N Play, this app gives helpful, practical advice and the links where to find it.
About Parent Prep School:
Parent Prep School is founded by two real-life Moms, Allison Edwards and Allison McDade, both lawyers, with five pregnancies between them. Knowing that you can do it all (with your sanity mostly intact) as long as you are organized, Edwards and McDade had a "why didn't I think of that" moment and launched Parent Prep School's Your BFF During Pregnancy app to help women (and men) stay ahead of the game during the 40 weeks of pregnancy. Parent Prep School is inspired by their own experience, and they hope it gives a laugh and eases the stress for busy expectant moms and dads with practical tips and weekly reminders. For more on Parent Prep School's Your BFF During Pregnancy application, please visit http://www.parentprepschool.com.
###