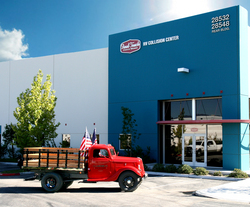 "It's a great niche market," says Joel Forte. "Although our primary business is in RV paint and RV body repair, our roots are in exotic cars and we love participating in the paint portion of restorations."
Valencia, CA (PRWEB) March 23, 2011
The quality of work at Final Touch Coach Works is evident on many 40-foot plus RVs as their shiny bodies streak down the road. The RV collision center also specializes in the application of a multi-stage paint process on high-end classic vehicles in their 57 foot eco-friendly paint booth..
About twenty years ago, old cars were just that – old cars. Now they are worth their weight in gold. Whether you are an enthusiast, collector or celebrity – you have to have a unique old car that says something about your personality.
And once again, these highly sought-after items have become a proud American export. Whether it's Japan, who has long appreciated our Rock-N-Roll and Levis jeans, or Sheiks in the Middle East, cars being exported to these regions can easily fetch six figures.
Old cars and trucks that sat dormant in garages and fields are now finding new life. The most unlikely discarded vehicle can become more valuable than some owners 401K's.
Call it a desire to recall a simpler, gentler era of the past – or a fire being flamed by the resurgence of the muscle car. But whatever it is, the restoration of old cars has become big business.
"It's a great niche market," says Joel Forte, General Manager of Final Touch Coach Works. "Although our primary business is in RV paint and RV body repair, our roots are in exotic cars and we love participating in the paint portion of restorations."
Building & engineering magnate Charlie Rasmussen sends his personal projects to Final Touch Coach Works. (Rasmussen can't avoid seeing dozens of RVs glimmering with new paint as he drives to his office, which is right behind Final Touch.) His 1937 Ford Flathead was drivable when the project started, but there was a lot of rust. It had its original paint with all original panels intact!
There are several types of classic cars out there. First is a car that is 100% stock. These are usually in the hands of their original owners who knew from day one that they had a collectable on their hands. Second are those cars that have been faithfully restored from the frame up. And finally, the third type of car has been faithfully restored, but has also been customized as an expression of its owner's creativity.
For this 1937 Ford, Rasmussen wanted to keep his classic a classic. This was almost a frame-up project - the main body remaining mated to the frame. And every detail was respectful of the original vehicle. As with any project of this magnitude, you completely disassemble the vehicle and restore each and every part individually – then you put it back together.
This can pose many problems. Given that this vehicle had rust and is 74 years old, you can bet that removing a screw is no small task. This is where top restorers come into play. They know how to handle these expected problems. Items like screws get updated with more modern hardware, and some parts, when unavailable, have to be custom remanufactured as one-off items, which can be very expensive.
Final Touch Coach Works repainted the frame and cab, but the body panels were a different story. There was some rust, but the owner wanted to keep the original panels so the vehicle had all matching serial numbered body parts. So Final Touch had to cut out the rust and custom fit and weld new pieces into place. After completing that, panels were trued, test fitted, and then faired and filled with compound for a perfect show-car fit. After that, primer, paint and clear coat were applied in stages in their 57-foot eco-friendly paint booth. In between stages, various grades of sandpaper were used to ensure an absolutely perfect finish.
"One of the most fun parts of the project was the flat bed." says Forte. "We had to remanufacture some of the staking and locking hardware – but the attention to detail made all the difference and really paid off." The straightened bed features beautiful oak panels for the bed and custom staking and locking hardware.
The chrome on the 1937 Ford ranged from fair to bad. Some parts only required polishing. Other parts needed re-chroming.
Rasmussen redid the interior with a classic vinyl bench seat. And, while not true to the original, he added a headliner.
The last items to go onto the truck were two large American flags. Rasmussen was thrilled. The 1937 Ford looks like new, and if Rasmussen has his way, it will be working for another 74 years. The successful contractor uses the truck for ground-breaking ceremonies and other events.
For more information about this project and other Final Touch Coach Works projects, please visit their website at http://www.FinalTouchRV.com.
About Final Touch Coach Works
Final Touch Coach Works is the premier Motorhome, RV, Travel Trailer and Custom Paint and Collision Repair facility in the greater Los Angeles area. Our staff of trained craftsmen can perform virtually any service for your RV – from minor to major collision damage, complete paint jobs, interior remodels, electronics and more.
For more information regarding this press release, contact Joel Forte at: Joel(at)FinalTouchRV(dot)com. Be our friend on Facebook. Tweet us at Twitter.com/FinalTouchRV.
###