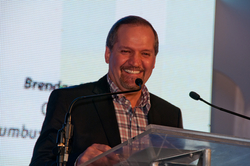 "With the kind of broadband infrastructure, products and services that we are bringing to Jamaica, the Government is well positioned to meet its ambitious 2030 development plans of universal access.
Kingston, Jamaica (PRWEB) March 22, 2011
Columbus Business Solutions (CBS) is the newest and most exciting business development in Jamaica, and is set to propel local and regional enterprises to greater levels of competitiveness. The latest and most hi-tech provider of business class solutions to Micro, Small, Medium and Large Enterprises was outlined at a private breakfast meeting at the Wyndham hotel to a select number of local and regional media earlier today (Thursday, March 17, 2011).
Columbus Business Solutions is the combined forces of Flow's superior business services and its sister company, Columbus Networks' regional state of the art, scalable, network, boasting the latest high tech infrastructure, found in the region. Columbus' sub-sea fibre optic network touches 22 countries in the region and carries over 60% of all internet traffic in the Caribbean.
Explaining the unique advantages of the entity, Niall Sheehy, Vice President of Columbus Business Solutions stated, "Columbus Business leverages Columbus' superior network and expertise so we can bring the best products services to our customers. This means that even the smallest business, as well as to the largest established multinational Organizations can benefit from the most advance expertise and technology in the region."
Through Columbus Business Solutions, Jamaican customers now have for the first time, a single supplier and point of contact, offering a wide range of high quality business class digital Internet Protocol (IP) services. This allows Columbus Business to offer services at the best prices and combines a centralized dedicated 24 customer services, for the most enhanced customer experience.
Anticipating Columbus Business' effect on the general economy, Brendan Paddick Chairman of Columbus Communications International (parent company of Flow), spoke about the macro impact of Columbus' broadband network at a launch event the previous night. "With the kind of broadband infrastructure, products and services that we are bringing to Jamaica, the Government is well positioned to meet its ambitious 2030 development plans of universal access. A broadband network, such as Columbus, will stimulate the economy by giving the country new business tools, open the door to ongoing business innovation and support a wide range of multimedia consumer services that is driving the 21st century economy."
This was reiterated by Michelle English, President and Chief Operating Officer of Flow, who said the latest investment in Jamaica is really about enabling growth. She anticipates the development and expansion of new industries as "Broadband impacts effective modern communication, a country's investment climate, it is seen as a catalyst for business growth and the stimulus for the emergence of new industries including health care systems and offshore data centres," English said at the launch.
Columbus Business Solutions products and services include some of what customers have already been experiencing such as Direct Fibre or Dedicated Internet connections, Wide Area Network solutions and Flow's commercial Watch, Talk and Click Services. With the launch of Columbus Business Solutions, the product suite has expanded to now include more enhanced business solutions for small and micro businesses, so that they leverage critical tools to become more competitive.
Columbus Business will combine these with some newer suite of services such as:

Business Continuity solutions to protect critical business data -- from simple data storage, co-location, to full data replication and Disaster Recovery (DR);
IP surveillance for increased security for your homes and businesses via digitized, networked version of closed-circuit television (CCTV);
Video Conferencing Solutions which helps to connect Jamaica to a greater international network allows large businesses to maintain their global reach, and reducing travel time and expense.
The unveiling of Columbus Business Solutions is a culmination of investment, partnership and the vision of those who lead the various Flow entities. Columbus Communications in Jamaica and the Caribbean span more than US$750 million to date.
For further information please contact:
Denise Williams (Mrs.)
FLOW
Public Relations Manager
876-620-3232 (SL) 876-564-0576 (m)
Dwilliams(at)Flowjamaica(dot)com
Carlette DeLeon (Ms.)
Breakthrough Communications
876-929-4048
carlette(at)breakthroughall(dot)com
# # #