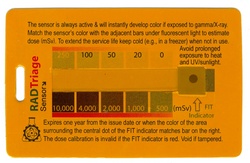 Middlesex, NJ (PRWEB) March 24, 2011
RADTriage® and RADSticker® are part of the award-winning SIRAD® family of dosimeters from JP Laboratories, Inc. The credit card-sized RADTriage and stamp-sized RADSticker are user-friendly, stockpileable, always ready without a power source, disposable and pre-calibrated radiation dosimeters for monitoring high doses (roughly 2-1,000 rads) of ionizing radiation.
More than 30,000 RADTriage and RADStickers are in the hands of Japanese first responders who are gaining easy to use and reliable knowledge of their exposure to radiation. ABC News, Fox News and several other crews were also outfitted with RADTriage and RADStickers before they headed to Japan last week.
When exposed to radiation from a major radiological disaster such as dirty or nuclear bomb detonation, or accident at a nuclear power plant, the sensors of SIRAD dosimeters instantly develop a permanent/irreversible color change which is cumulative and proportional to dose. SIRAD dosimeters allow the individual to immediately self-assess the dose to which they may be subjected. It provides the wearer and medical personnel instantaneous and accurate information on radiation exposure to assess health risks and guide treatment.
RADTriage and RADSticker are produced under U.S. Patents #7,227,158; 7,476,874 and others. The SIRAD® technology was developed with multimillion dollar funding from several US agencies, such as DHS, DOJ, DOS, DOD, DHHS and TSWG and was field tested by the DHS with 800 first responders for eight months in the states of NJ, NY and IL. SIRAD Technology provides affordable "peace of mind" to those confronted with the threat of radiation exposure, thereby replacing fear and uncertainty with the facts.
For purchase and technical information on RADTriage and RADSticker, please contact:
Dr. Gordhan Patel
President
JP Laboratories, Inc.
120 Wood Avenue
Middlesex, NJ 08846
(732) 469-6670
sirad(at)jplabs(dot)com
About JP Labs: JP Labs, manufacturer of SIRAD Technology, has been developing new products since 1983. Dr. Gordhan Patel, President of JP Labs, pioneered color developing radiation dosimeters in late 1970s.
# # #