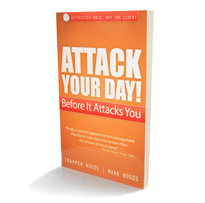 Phoenix, AZ (PRWEB) March 22, 2011
Authors Mark Woods and Trapper Woods have released the highly anticipated book Attack Your Day! Before It Attacks You, published by Morgan James. "Finally, a quick-fix approach to time management that doesn't take more time to learn than the amount of time it saves."
This exciting new book discusses five essential skills to avoid overwhelm, offers you tactics to deal with costly interruptions, and provides tools to help you navigate time for greater productivity. It also includes 101 productivity strategies that can be learned in minutes! Topics include: fail safe goal setting, time robber, floating paper anxiety attack, time contamination, transition time, email jail and talk files to name just a few!
The authors discuss that times have changed. "We have more events and activities to manage in the same amount of time. This is due in part, to technology, the Internet and the expectations of doing more with less. We are wired 24 hours a day, 7 days a week, with multiple demands and hardly a chance to catch our breath." This has created what the authors refer to as "time compression". "Time compression" creates anxiety, stress and overwhelm, which results in poor productivity.
Is there an easier way to approach the time challenges we face today in this chaotic world? The authors think so. Attack Your Day! Before It Attacks you is available for purchase online at amazon.com and other online retailers. For more about this book visit http://www.attackyourday.net
About the authors:
Mark Woods has seventeen years of experience in training, project management, sales, and marketing and uses his business experience to provide results-oriented strategies that drive peak performance in today's fast paced work environment.
Trapper Woods (2010) a well-known expert in the field of time management, work-life balance, and customer service has also co-authored Service, Some People Just Don't Get It and Tick Tock, Who Broke the Clock? Solving the Work-Life Balance Equation. He traveled more than 2.5 million miles, influencing tens of thousands of people throughout the United States and Canada
Media Contact:
Rebecca Taylor, Trapper Woods International
Phone: 888-972-0800
Email: rebecca(at)trapperwoods(dot)com
Corporate Website: trapperwoods.com
###