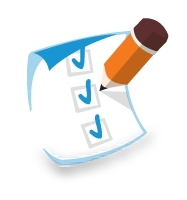 We continue to make the grocery shopping experience less of a chore, and are pleased to offer a new feature that makes it easier for our users to find everything they need in one trip to the store.
Sterling, VA (PRWEB) March 24, 2011
ZipList, Inc., an online and mobile grocery list and recipe search service, with partners ranging from AOL's KitchenDaily to Martha Stewart Living Omnimedia, today launched pre-populated shopping checklists to help users shop for what they need for special occasions, as well as pick up items they use week-after-week, like bread, eggs and milk. Users can also enter to win a $500 grocery gift card, plus other prizes, when they create and share their own shopping list checklists.
ZipList's grocery checklists help users prep for spring cleaning, as well as stock a bar, a medicine cabinet or even a spice rack. Theme-specific checklists help users shop for celebrations, like Passover and Cinco de Mayo, or get ready for a camping trip or a new puppy. Diet-specific checklists are perfect for diabetics, runners and heart smart shoppers. Users can add what they need to their grocery lists with a few clicks.
"We continue to make the grocery shopping experience less of a chore, and are pleased to offer a new feature that makes it easier for our users to find everything they need in one trip to the store," said Geoff Allen, Founder and CEO, ZipList, Inc. "We're now giving our users even more reason to create their lists online, then access them anytime, anywhere."
Users simply search for checklists they may need to use in the future, like for basic grocery items or common spice rack needs. Save favorite checklists to "My Checklists." Then when it's time to go shopping, users simply pull up their checklists and check off needed items to add them straight to their weekly shopping lists.
Today there are more than 100 shopping list checklists at ZipList, including those from partners, like MarthaStewart.com, Whole Living, KitchenDaily and Moms Who Think. Top food bloggers have also specially created checklists, including a "Cook from the Pantry" checklist from $5 Dinner Mom, a "Gulf Coast Favorites" checklist from Deep South Dish and a "Once a Month Stockpiling" checklist from Once a Month Mom.
Grocery Shopping Spree Giveaway
Starting today, any registered ZipList user who creates a new grocery checklist and submits their checklist on the ZipList Blog will be entered into a random drawing to win one of three prizes, including one $500 American Express gift card and two $250 American Express gift cards. ZipList users have until April 6 to create shopping list checklists and submit contest entries. Winners will be chosen on April 13. For entry form and full rules, see http://blog.ziplist.com/checklists.
Helping Partners Connect with Grocery Shoppers
ZipList offers consumer packaged good manufacturers (CPGs), media publishers, grocery retailers and mobile developers the opportunity to directly embed its functionality into their websites and mobile apps, enabling consumers access to their single, personal grocery lists or recipe boxes while staying within a fully branded experience. Its fully integrated mobile capabilities allow partners to offer an integrated online and offline experience, even while consumers are in the store. Interested partners can contact ZipList at partners(at)ziplist(dot)com.
About ZipList, Inc.
ZipList is a free, easy-to-use online and mobile shopping list and recipe search service that enables shoppers to create and share grocery lists with family members. Users can arrange their lists by aisle or store, and can save recipes to a central recipe box. ZipList has partner tools and SDKs available to enable media and lifestyle properties to incorporate shopping list and recipe box features into their own sites and mobile apps. ZipList features can be found on AOL's KitchenDaily.com, MarthaStewart.com, Martha's Everyday Food iPhone app, Moms Who Think and various food blogs. Follow ZipList on Twitter at http://www.twitter.com/ZipList or become a Facebook Fan at http://www.facebook.com/ZipList.
###