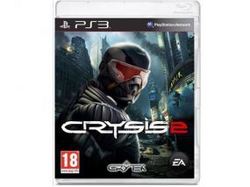 In 2010 the average savings for games just like Crysis 2 sold on BidRivals was 59 Percent!
(PRWEB) March 23, 2011
Crysis 2 PS3 has just been released on BidRivals.com. Placing you in a world scarred by natural disasters that seems to be on the edge of total collapse, Crysis 2 shows a terrifying alien invasion that sees another attack on mankind by aliens which will settle for nothing less than the complete destruction of mankind as a species. Only one man, one super soldier is there to make a last stand for humanity. Crysis 2 offers groundbreaking game play coupled with a cool story, making this game an instant success.
The release of Crysis PS3 on BidRivals gives eager gamers the possibility to benefit from discounts of up to 90% off for this exciting game. In 2010 the average savings for games just like Crysis 2 sold on BidRivals was 59 percent. The first copy of Crysis 2 that was released for auction on BidRivals sold for just 5.47 Euro. Avid gamers can now take advantage of open access to a discounted original Crysis 2 by using BidRivals entertainment shopping system.
Crysis 2 is only one of many games offered for auction by BidRivals. The average savings offered using our Penny Auction shopping system gives easy access to all major games for bargain prices.
The company offers customers the ability to get up to 90% off brand new, premium quality merchandise via its entertaining Auction bidding system. BidRivals also operates as a traditional Online Retailer as it offers customers the option to purchase an item outright. With new items added to the catalogue every week, BidRivals takes pride in offering choice and variety and 24/7 customer support.
About the Company
BidRivals Ltd owns and operates BidRivals.com, an Online Retail and Auctions portal. Based in Malta, the company also has regional offices in USA and Australia. Operating since July 2009, BidRivals.com is one of the oldest Penny Auction operators in what is still a very fledgling industry.
For media enquiries contact:
Keith Montanaro
e-mail: keith(at)bidrivals(dot)com
###