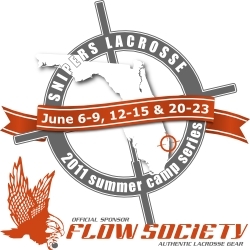 Snipers Lacrosse will showcase and promote the Flow Society brand at its series of camps throughout the year, by providing campers with Flow Society shorts and reversible jerseys
Delray Beach, FL (PRWEB) March 24, 2011
The fastest growing company in lacrosse's Southeast region and the leading lacrosse apparel innovator have formed an affiliation that will benefit the lacrosse community by merging the world of instructional youth lacrosse with unparalleled lax fashion. Snipers Lacrosse is pleased to announce an alliance with Flow Society that will align two organizations with similar outlooks, business models, customer bases, and visions for the future of lacrosse.
Under the terms of the agreement, Flow Society will sponsor a series of summer camps run by Snipers Lacrosse. In addition, Snipers Lacrosse has licensed its iconic scope logo for production of gear to be sold nationally in Dick's Sporting Goods, Sports Authority, and over 300 specialty retailers.
Snipers Lacrosse will showcase and promote the Flow Society brand at its series of camps throughout the year, by providing campers with Flow Society shorts and reversible jerseys. The summer camp schedule includes a day camp taking place June 6-9, 2011 in Boca Raton, Florida, an overnight camp June 12-15, 2011 at Dodgertown in Vero Beach, Florida and an overnight camp at Lynn University in Boca Raton, Florida from June 20-23, 2011. Dates for additional camps in Houston, Texas and Pittsburgh, Pennsylvania are also in the works for this summer.
Furthermore, the Florida Snipers, a Snipers Lacrosse subsidiary, will become the first program sponsored by Flow Society in the country. Snipers will be outfitted head to toe in Flow Society gear, accompanying the sought-after Florida Snipers Helmets.
Snipers Lacrosse founder, Tony Lowe, states, "As a program, we pride ourselves on playing great on the field and looking good off of it. Flow Society's unique designs are unmatched in the world of lacrosse. About 6 months ago, I noticed a lot of my players wearing Flow Society shorts and in seeing my players' love for the brand, realized that a partnership with them would create a great, mutually beneficial relationship. Licensing our logo to them is going to be wonderful for our program and a great source of pride for our players." Faith Richards from Flow Society adds, "The players, people, and fans who support lacrosse know that the sport is more than just participating in games. They recognize it as a way of life that is new, underground, untouchable and valuable."
Pat Newell, of Snipers Lacrosse, commented on the natural fit of the two companies; "Flow Society sees what other apparel and equipment companies do not, and they use that knowledge to gain significant market share. We do the same within our areas of expertise, making this partnership a union of like-minded, up-and-coming companies, who tailor themselves to similar clients and who will help one another build on the successes each has already experienced."
More information on each of the upcoming summer camps may be found online at: http://www.sniperslacrosse.com/camps/
---
About Flow Society
Flow Society, a leading lacrosse apparel company, was founded in early 2010 but has already taken the lacrosse community by storm. Delivering its first shipment in May of 2010, it now has orders in the millions in over 1,500 retail outlets. For more information about Flow Society, please visit: http://FlowSocietyLacrosse.com
About Snipers Lacrosse
Snipers Lacrosse was created in 2004 to provide private lacrosse instruction. In that time, the company has expanded exponentially, developing the Florida Snipers program, and has plans for several additional projects within the game of lacrosse. For more information about Snipers Lacrosse and its subsidiaries, please visit: http://www.SnipersLacrosse.com/about-us
# # #