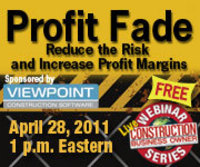 Birmingham, AL (PRWEB) March 23, 2011
Viewpoint Construction Software is pleased to sponsor the webinar, "Profit Fade: Reduce the Risk and Increase Profit Margins," presented by Construction Business Owner, the business management resource for contractors. Attendees can register for the free webinar at http://www.constructionbusinessowner.com.
With diminishing back logs becoming the norm, profit fade is no longer a buzzword in construction, but a reality that every contractor faces. With fewer projects on the books, profit fade is a disturbing problem. Not only does it adversely affect your bottom line, but it can cripple the possibility of booking future work.
The good news is that profit fade is manageable if you understand how to leverage today's technology.
Reducing profit fade requires plugging the leaks in your business and increasing your operational efficiency—from change orders to cash flow management.
This informative webinar will address key areas that affect the ability to minimize profit fade, such as:

Change Order Management
Project Management
Forecasting
About the Speaker:
Chuck Elyea, Viewpoint Construction Software's East Coast Market Development Manager received a B.A. in Economics from Davidson College and an M.B.A. from Wake Forest University in North Carolina. Elyea has held a wide range of executive-level positions in construction over the years including CFO of a family-owned contractor and a founder of CIS Consulting Group. CIS was one of the largest technology partners in the U.S. for a major software firm with over 1,500 supported clients. After selling the company in 2010, Chuck became Viewpoint's market development manager. When not holding down the fort in Viewpoint's east coast office, Chuck enjoys spending time with his lovely wife and four kids.
About Construction Business Owner:
As the leading construction business management resource for contractors and the building industry, Construction Business Owner, offers articles from industry experts on some of the following subjects: construction software, construction accounting, marketing a construction company, green building, construction safety, construction law, workforce solutions, construction insurance, risk management, construction regulations, jobsite security, and equipment purchase and management for contractors.
###