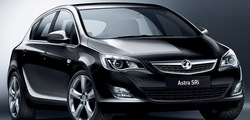 The Astra is one of our most popular models with its stylish looks and keen pricing; we believe this offer is really competitive and those looking to lease an Astra will be hard pressed to find a better deal elsewhere
(PRWEB) March 24, 2011
One of the UK's leading online providers of car leasing deals is offering the popular new Vauxhall Astra 1.6i VVT SRi model for just £149.95 per month. This represents approximately fifty pounds per month saving over the standard rate. This special offer was announced on Monday 21st of March and is valid for one week from that date so prospective owners should visit the NWVC website as soon as possible!
The new generation MK VI Astra is the latest in a long line of these popular favourites from Vauxhall. This version, launched in December 2009, has been hailed as the 'best yet' by the UK automotive press. The car buying public seem to agree, with the new Astra outselling its closest rival, the Ford Focus, by 50% in June 2010.
Despite its good looks, the Astra remains firmly rooted in family car territory and are highly practical. The VVT SRi model includes some impressive options like cruise control, sports seats, MP3 compatibility and air conditioning. Additional car gadgets like car Bluetooth handsfree kits can be added at a later date.
Donna Kelly, website editor for Nationwide Vehicle Contracts commented: "the Astra is one of our most popular models with its stylish looks and keen pricing; we believe this offer is really competitive and those looking to lease an Astra will be hard pressed to find a better deal elsewhere"
At £149.95 per month, and a deposit of just £899.95 the Astra represents excellent value. Leasing is becoming an increasingly popular way to finance vehicles in the climate since it requires a relatively low financial commitment in comparison to buying outright. Leasing deals are highly flexible and Nationwide Vehicle Contracts is offering hirers a multitude of options with mileage allowance and the length of the lease period, meaning individuals can tailor a lease plan perfectly suited to their needs.
Nationwide Vehicle Contracts also offer a range of car accessories so if you do chose to take advantage of the deal there should be enough left over to pick up some other essentials like a sat nav system or some car mats.
###