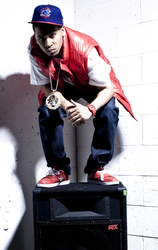 Atlanta, GA (PRWEB) March 23, 2011
Standing out in the ever changing music industry is no easy task, but for talented artist and shrewd businessman Maff Test, the world quickly became obvious to his gift.
Lyrically Maff Test's style is distinctively unique and as a musical innovator he is enriching today's generation with his content driven lyrics, accompanied with the exceptional production of R&B singer/producer Jon Wain.
Lockout Records originated in 2003 against all conceivable odds, explains CEO Maff Test. "The name Lockout Records stems from Chicago being an outcast in the industry. We have been locked out in terms of exposure until most recently," he explains.
Intent on building the career of artists signed to Lockout Records, Maff Test is now prepping the EP release of R&B artist, writer and producer Jon Wain tentatively titled Night Life to ensure the momentum of success of the burgeoning label.
With extensive media coverage on several highly popular websites and magazines such as: AllhipHop, Hip-Hop Weekly Magazine, RashaEntertainment, ThisIs50, GlobalGrind, and Cover of Coast 2 Coast Magazine (Issue #8) to name a few, the Harvey, Illinois native is not resting on his laurel since rising from obscurity to becoming a dominating force on the underground scene.
Through a prolific succession of mixtapes, (Young Illini, Stolen Property, Big Biz Vol 1, Big Biz 1.5) and explosive performance at Chicago's B96 Summer Bash, Maff Test is leaving fans with an everlasting testament to one man's star-power.
The formidable lyricist holds true to the mantra, "Get where you need to be to create opportunity", while raising the flag for I.G. M. (Interstate G Movement or I Get Money). Lockout Records and I.G.M. strong alliance is based on a shared interest that is fleeting from today's rap movement.
The highly infectious single, Made Of is the latest creation from Maff Test, pulsating with African war-drums over the strategically loop rhythm of producer Marcus Millz , with Jon Wain assisting on the hook. The natural pairing of Maff Test and Jon Wain is essentially rooted in friendship, but its the musical chemistry on Made Of , where the duo takes center stage.
###