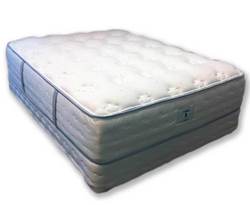 Washington, DC (PRWEB) March 23, 2011
Mattress Warehouse is proud to announce the addition of two new and exclusive Serta Naturale Comfort mattresses, both of which will benefit Autism Speaks. All sizes of the mattresses are available for purchase at over 150 Mattress Warehouse locations, as well as their Online Store.
These new mattresses feature the Autism "puzzle piece" design which is sewn into the cover. In addition, both the firm and plush models of the mattress feature the comfort benefits of visco memory foam.
For every Serta Naturale Comfort Autism Speaks mattress sold through until December 31, 2011, Mattress Warehouse will donate $100 to Autism Speaks. For more information, please visit any Mattress Warehouse location or SleepHappens.com. For bulk orders, customers are encouraged to call 1-800-233-7253.
About Mattress Warehouse:
Mattress Warehouse is a leading bedding retailer in the Mid-Atlantic region with over 150 store locations. Found at SleepHappens.com, their website has a Mattress Outlet section which features heavily discounted mattresses and sleep sets. Customers are also able to purchase mattress covers, which encase and protect all sizes of mattresses and pillows.
About Autism:
Autism is a complex neurobiological disorder that inhibits a person's ability to communicate and develop social relationships, and is often accompanied by behavioral challenges. Autism spectrum disorders are diagnosed in one in 110 children in the United States, affecting four times as many boys as girls. The prevalence of autism increased 57 percent from 2002 to 2006. The Centers for Disease Control and Prevention have called autism a national public health crisis whose cause and cure remain unknown.
About Autism Speaks:
Autism Speaks is North America's largest autism science and advocacy organization. Since its inception in 2005, Autism Speaks has made enormous strides, committing over $160 million to research through 2014 and developing innovative new resources for families. The organization is dedicated to funding research into the causes, prevention, treatments and a cure for autism; increasing awareness of autism spectrum disorders; and advocating for the needs of individuals with autism and their families. To learn more about Autism Speaks, please visit AutismSpeaks.org
###