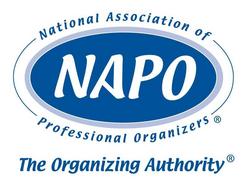 Mount Laurel, NJ (PRWEB) March 23, 2011 —
The seventh annual Get Organized (GO) Month, sponsored by the National Association of Professional Organizers (NAPO), helped hundreds of people, businesses and groups across the country greet the new year with less clutter, more order and a renewed ability to save time, save money and be more productive.
Throughout January and even into February, many of NAPO's 4,000 members from New York to Washington donated their time and expertise to host local events designed to educate their communities about the personal and professional benefits of being organized.
"GO Month is NAPO's opportunity to raise awareness of the organizing and productivity industry for our members," says NAPO President Laura Leist, CPO®. "Clients, both individuals and businesses, benefit from the solutions and services our members provide, and in turn they lead more fulfilled and productive lives."
Nearly 20 NAPO chapters from coast to coast celebrated GO Month with free workshops, recycling events and donated organizing services. In New York City, Mayor Michael Bloomberg issued a proclamation officially designating January as Get Organized Month in the city, and NAPO members appeared on ABC-TV's "Good Morning America." Through the combined efforts of NAPO's members, literally tons of paper were recycled and kept out of landfills, hundreds of households were de-cluttered, and dozens of worthy non-profit groups were able to spend more time serving their communities and less time dealing with the disorganization in their offices.
Visit the NAPO website for a complete list of GO Month activities and to get details on local events. NAPO looks forward to celebrating the eighth annual GO Month – and improving more lives – in January 2012.
About NAPO: The Organizing Authority®, The National Association of Professional Organizers (NAPO) is the premier association dedicated to the field of organizing. Since forming in 1985 as a nonprofit professional educational association, NAPO has been dedicated to serving its members through education, networking, industry resources, and promoting the profession to the public. For more information about Get Organized Month, and to find a NAPO professional organizer in your area, visit http://www.napo.net or call 856-380-6828.
###