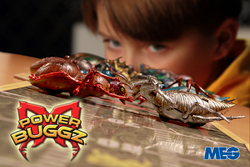 We have designed personality, speed and competition into a product segment that has always fascinated boys---bugs and insects
El Segundo, CA (PRWEB) March 23, 2011
M.E.G., creator of innovative Boy's Action Toy lines like Stink Blasters® and Monster in My Pocket®, announces the introduction of yet another new collectible, based on speed, action and a love for startling your mother, sister and friends---New Power Buggz®, launches this week in select U.S. markets, with a national rollout soon to follow.
"We have designed personality, speed and competition into a product segment that has always fascinated boys---bugs and insects," says Joe Morrison, C.E.O. of M.E.G. "Each Power Buggz® character has a distinct personality, a dramatic look and great speed. Additionally, boys will be intrigued by the terrific story of how the Power Buggz arrived at Coastal High."
Here's the backstory: After a mysterious explosion in the high school science lab, 16 ordinary bugs were transformed into something more: Smarter, stronger, faster---they became Power Buggz®!
Power Buggz® turns standard vehicle play into a character-based competition between well-developed personalities battling with their unique speed features. Ripcords, pullbacks, crawlers and a competition Stunt Battle play set make up the initial product line.
Fully functional figures allow for skill and strategy–based play. The 16 characters are divided into four teams for battle. The Good Buggz (Ants & Beetles) take on the Bad Buggz (Roaches and Spiders) to see which team will ultimately rule. Figures include a Battle Card with bio, stats and multiple game play options to get things going. Boys can delve deeper into the storyline and card game online at http://www.powerbuggz.com, where they can review full character bios and discover multiple game options on their Battle Cards.
The toy line is just the first step of the Power Buggz® invasion. With an animated TV series also in production, M.E.G. is taking a multi-platform approach with this property. Watch out! Buggz will soon be everywhere!
For more information on where to buy, go to info(at)powerbuggz(dot)com.
About MEG
M.E.G. is a leading owner, creator and developer of a wide range of successful Intellectual Properties. In addition to Puppy In My Pocket®, MEG also owns and markets an extensive list of other In My Pocket® properties such as Kitty In My Pocket®, Jungle in My Pocket®, Pony In My Pocket®, Ocean In My Pocket®, Monster In My Pocket®, and the newest version, Baby In My Pocket®. Other innovative brands created and owned by MEG include Stink Blasters®, Power Buggz®, Lottalittles® and Scent Stars®. These highly successful properties are manufactured by MEG and sold worldwide by top-tier toy distributors covering over 50 countries. MEG was founded by a former Mattel EVP of Marketing, Joe Morrison, and is based in El Segundo, Calif. For more information: visit http://www.megtoys.com/.
###