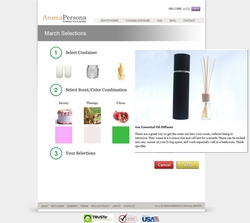 AromaPersona is like your own personal guide to making one of a kind candles.
Houston, TX (PRWEB) March 23, 2011
Seeking to eliminate the dull repetitiveness of the retail candle market, AromaPersona.com allows anyone to design unique candles that are specially tailored to their own individual desires.
Aromapersona.com is a monthly service; members are presented new selections to browse and once the member has made a selection, they then have the opportunity to start the "co-creation" process by "selecting the exact container and scent-colour combination that suits their unique sense of smell," said Nate Andreshak, Founder/CEO of AromaPersona.
Making it extremely easy, with a no commitment flexible subscription model; Members of AromaPersona never have an obligation to buy. Members are free to skip any month they please and they can even upgrade/downgrade their accounts at any time.
"So, if you're thinking of presenting a gift to a friend or family member, I don't think there could be a simpler way to present them with a personalized gift," noted Andreshak, whose goal is to help spread the Joy of finding new favourite fragrances, thus their tagline: "Furnish Your Senses!"
When first coming up with the idea for AromaPersona, Andreshak Says, "we used to go around to stores just to watch people browse for new candles. One thing we kept noticing was that when someone found a scent that they really loved, they would instantly want to share that experience with the person(s) they were with. It was this joy we saw, that made us want to create AromaPersona."
Aromapersona.com was founded in 2010 to provide consumers with a wide choice of candles, diffusers, and fragrance products. The site offers a range of articles, research material and message forums for the fragrance conscious consumer.
###