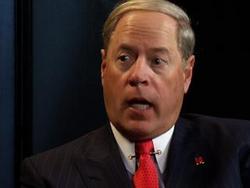 Hill says the Commerce Bank model could only be created from scratch--most banks can't seem to make the leap from good to great
Philadelphia, PA (PRWEB) March 23, 2011
This month some of the stories about entrepreneurship, startups, venture capital and innovation from "Get it Started!" http://wep.wharton.upenn.edu/gis, the free, online newsletter of Wharton Entrepreneurial Programs include:
An Entrepreneur You Can Bank On: Wharton Alumnus Vernon Hill Has Made Waves in the Banking Industry Turning Customers In To Fans.
Vernon Hill, the former president, CEO and founder of Commerce Bank, was giving a speech in Manhattan when a man in the audience stood up and asked a rather peculiar question. He said, "If we kidnapped your dog and wouldn't give him back until you fix retail banking at Chase, what you would do?"
It didn't take long for Hill -- who is well known for his fondness for his dog -- to reply, "Well, I guess my dog is dead because that's just hopeless." Also well known for creating "America's Most Convenient Bank," Hill explains that the Commerce Bank model could only be created from scratch whereas existing banks are so set in their ways that they can't seem to make the leap from good to great. » Read More-
http://wep.wharton.upenn.edu/gis/article.aspx?gisID=187
Changing Landscapes: 2011 Wharton Private Equity Conference.
Five years ago a discussion of venture capital would start in Silicon Valley, move to New York and perhaps Boston but inevitably end back in the Valley. Today, as was evident at Wharton's Private Equity Conference in February, the talk is centered on Eastern Europe, China, India. And, yes, Silicon Valley.
Conveniently the student organizers arranged two sessions; one U.S.-based and entitled "The Changed Landscape of Venture Capital," and another called, "Challenges and Opportunities for International Venture Capital." Read More-http://wep.wharton.upenn.edu/gis/article.aspx?gisID=188
From last month's "Get it Started!":
Alumni Impact / Early Success: Yodle Founder Nathaniel Stevens.
The 2010 Wharton Undergrad Alum Talks About Yodle's Quick Rise Up the Charts. >> Read More-http://wep.wharton.upenn.edu/gis/article.aspx?gisID=183
Which Way to the GE Way? Assoc. Prof. David Hsu Looks at How Start-ups Benefit from Establishing Routines.
>> Read More-http://wep.wharton.upenn.edu/gis/article.aspx?gisID=184
About the Wharton School and Wharton Entrepreneurial Programs
In 1973, The Wharton School became the first school to develop a fully integrated curriculum of entrepreneurial studies. Today Wharton, through Wharton Entrepreneurial Programs , supports and seeds innovation and entrepreneurship globally through teaching, research and outreach to a range of organizations through its many programs, initiatives and research centers. At the same time, Wharton students and alumni are helping to build entrepreneurial enterprises around the world and impacting virtually every industry.
The Wharton School of the University of Pennsylvania — founded in 1881 as the first collegiate business school — is recognized globally for intellectual leadership and ongoing innovation across every major discipline of business education. The most comprehensive source of business knowledge in the world, Wharton bridges research and practice through its broad engagement with the global business community. The School has more than 4,800 undergraduate, MBA, executive MBA, and doctoral students; more than 9,000 annual participants in executive education programs; and an alumni network of 86,000 graduates. Learn more:
http://www.wep.wharton.upenn.edu
###