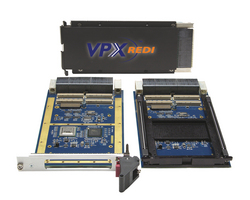 "As developers implement the new VPX architecture, they can still enjoy access to a broad range of readily available I/O processing and FPGA computing mezzanine modules," states Joseph Primeau, Acromag's sales and marketing director.
Wixom, MI (PRWEB) March 24, 2011
Acromag's VPX4810 3U VPX carrier cards provide a simple and cost-effective solution for interfacing a PMC or XMC module to a VPX computer system. These carrier cards route power and interface bus signals to a plug-in mezzanine module through the VPX card slot connector. An 8-lane PCIe bus Gen 2 interface enables rapid data throughput. By inserting PMC/XMC industrial I/O and configurable FPGA modules from Acromag or other vendors on the carrier, developers can now leverage hundreds of available function modules currently unavailable in a VPX platform. Pricing starts at $1600 for an air-cooled version with a 0 to 70°C range. Conduction-cooled and REDI models are also available.
These carriers are ideal for high-performance industrial, defense, scientific research, and telephony systems requiring high-speed I/O. The VPX4810 supports any standard IEEE-1386.1 module for great flexibility to address I/O signal processing tasks. Acromag offers dozens of compatible PMC modules to perform A/D, D/A, digital I/O, and serial communication functions. Re-configurable FPGA modules are also available in a PMC or XMC format with multi-lane serial interconnects for high-performance algorithm acceleration and adaptive computing applications.
The carrier card conforms to VPX VITA 46.0, 46.4 and 46.9 specifications and optionally VITA 48 for Ruggedized Enhanced Design Implementation (REDI). It is also compatible with a number of VITA 65 OpenVPX module/slot profiles. 64 I/O lines (P14, VITA 46.9) are supported via the P2 VPX connector. Front and rear-panel I/O access can be accommodated.
The PMC/XMC site uses 64-bit, 66/133MHz PLX technology with a PCIe to PCI-X bridge good for data transfer rates up to 1GB/s. Users can select a fat pipe (x4) or double-fat pipe (x8) PCI Express interface by adjusting a jumper.
Acromag has designed and manufactured measurement and control products for more than 50 years. They are an international corporation with a world headquarters near Detroit, Michigan and a global network of sales representatives and distributors. Acromag offers a complete line of embedded I/O and industrial computer products for military, aerospace, manufacturing, transportation, utilities, and scientific research applications.
###