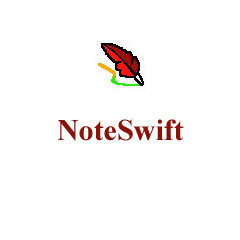 "The NoteSwift software translates narrative text into data within Allscripts Professional, dramatically improving physician productivity, while producing the data that is required by the HITECH Act. Very powerful!"
Palm Beach Gardens, FL (PRWEB) March 25, 2011
NoteSwift, a revolutionary software, debuts to the health IT marketplace with the help of 1450, Inc., the world's leading value added distributor of Nuance's industry leading Dragon® Medical speech recognition software. With NoteSwift and Dragon Medical together physicians can input significant data into their EHR system with narrative speech.
NoteSwift recognizes meaningful data in dictations, and places them in the EHR. Currently NoteSwift supports dictation into Allscripts Professional EHR versions 7, 8 and 9.0, and the company plans to release versions for many more EHRs in the future. A version of NoteSwift for Allscripts MyWay is expected to be released in the first half of 2011.
Physicians using Allscripts Professional with Dragon Medical and NoteSwift have an ability that very few others in the industry have: the ability to get discrete structured data into their EHR from the spoken voice. A doctor simply dictates and together NoteSwift and Dragon Medical will take the relevant data from the dictation and place it into the appropriate data fields in Allscripts Professional.
Based upon an exclusive distribution agreement between 1450 and NoteSwift, 1450 will be responsible for all distribution of NoteSwift's Electronic Health Record (EHR) / Electronic Medical Record (EMR) related programs. Eric Fishman, MD, President of 1450, notes that "NoteSwift technology provides the missing link between the patient narrative that is so important, and is so easily accomplished using Dragon Medical, and the data that is required within an EHR. With the tremendous emphasis on data collection in the HITECH Act, NoteSwift is a lifesaver for physicians."
Chris Russell, MD, Chief Executive Office of NoteSwift, LLC states that it will prove to be a powerful catalyst to EHR adoption by the physician community. "I built NoteSwift based around the physician experience – the importance of conserving their time, maintaining their workflow, and preserving the doctor-patient relationship as we migrate to the new world of EHRs."
Jim Morrow, MD, vice-president for medical affairs at Allscripts stated "the NoteSwift software translates narrative text into data within Allscripts Professional, dramatically improving physician productivity, while producing the data that is required by the HITECH Act. Very powerful!"
NoteSwift is available through many of 1450's Value Added Resellers who can be found at http://www.SpeechRecognition.com. For more information, or to acquire NoteSwift contact Megan Padilla, at 888.848.1450 ext. 170.
About 1450, Inc.
1450 is the nation's largest Value Added Distributor of Dragon Medical and Dragon NaturallySpeaking, speech recognition software, serving most of the nation's largest Value Added Resellers of the products. Specializing in documentation methodology, 1450 provides expertise in solutions for medical practitioners and other professionals.
About NoteSwift, LLC
NoteSwift, the market leader in speech to EHR integration and is focused on developing physician-centric solutions designed to address the critical needs of navigation and discrete data entry, directly into the EHR – and doing so in a natural, easy, and structured fashion. Founded in 2009 in Johns Creek, GA, NoteSwift's goal is to improve the physician experience with EHRs.
###