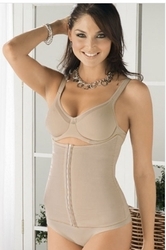 Sales for fajas are up 32% since last year
New York, NY (PRWEB) March 24, 2011
For years, women have aspired to attain the heroin chic waif look of the 90s. Today, thanks to celebrities such as Jennifer Lopez, Beyonce, Kim Kardashian, and Scarlett Johansson, women are now embracing their curves and striving to enhance their figure with waist nipping fajas - also referred to as waist cinchers. Classic Shapewear, the leading online retailer offering the best brands in shapewear, reports that sales for fajas are up 32% since last year.
Waist cinchers are nothing new. In fact, in the mid 1920s to the late 1960s, the girdle was an essential garment worn by women everywhere emanating a respectable and modest figure. As the popularity of the "wasp waist" declined in the US with the emergence of the Twiggy look in the late 1960s, waist cinchers continued to gain recognition among Latin women – known for their gorgeous curves - throughout Latin America. In fact, Colombian fajas are considered having the best design and construction because Latin women have used cinchers for decades to sculpt and mold their bodies into a perfect silhouette. Well-known brands include Ann Chery and Leonisa --- both known for their superior quality, fabrication methods, and design. Flakisima, which fittingly means "skinnier" in Spanish, is a relative newcomer to the market that has quickly become a bestseller. In the US, the trend toward living a healthier lifestyle and embracing one's natural figure, is giving rise to these fantast body shapers. Today's highly evolved waist nippers give women an instant tummy tuck – no surgery or diet required.
Ann Chery, a popular Colombian brand, pays special attention to the design, manufacturing, and quality of its products. Best known for its Clasica Latex Waist Cincher ($42.99), which other brands have tried to imitate to no avail, is one of the most comfortable cinchers on the market. Designed to dramatically reduce the waistline by up to five-inches, trim the tummy, improve posture, and reshape one's figure instantly. Ideal under even the most figure-hugging outfit, this waist shaper will smooth out any unsightly bulges, eliminating muffin top or bra bulge. Made with a layer of soft cotton for comfort and absorption and pure natural latex for extreme compression to accelerate weight loss and eliminate toxins.
Known in Latin America as the first brand of women's intimate apparel, Leonisa has been creating innovative high-end design solutions to enhance the intimate beauty of women since 1956. Their Compression Waist Cincher Girdle ($42.95) captures the Latin spirit of beauty, pride, and endless desire for sultry curves as it defines the waistline, flattens the tummy, and lifts the bust. Designed with a perfect blend of advanced powernet and microfiber to contour the body for an overall gorgeous figure.
Adding to the brands popular line of uber-sexy, Brazilian-inspired shapewear, Flakisima's new "Power Cotton" Waist Cincher ($54.99) is a high compression latex shaper. Created using an innovative 3-ply technology, which puts a layer of natural latex between two layers of 100% cotton for a smoother feel, increased comfort, and all-around natural looking figure. Created for those who love the slimming benefits of the latex but want the superior absorption and softness of cotton.
Classic Shapewear continues to select and carry only the highest quality fajas. To view the entire range of waist cinchers, please visit: http://www.ClassicShapewear.com.
About Classic Shapewear:
Classic Shapewear is the industry's leading online shapewear retailer offering the highest quality, latest trends, and best named brands to fit and shape women of every size. Specializing in shapewear, the buyer's at Classic Shapewear are selective about which brands they carry. From the material, to design and the importance of a seamless garment, Classic Shapewear knows how shapewear should be made. For more information, please visit: http://www.ClassicShapewear.com
###