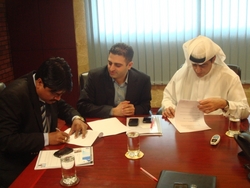 Tasweek Real Estate Marketing and Development
(PRWEB) March 30, 2011
Tasweek Real Estate Marketing and Development, an advisor and solutions provider serving the real estate markets, has signed a Memorandum of Understanding (MoU) with Brayan Polyteck Facilities Management LLC that will enhance its property value chain by tapping its new partner's facility management (FM) expertise.
Under the terms of the agreement, Tasweek will introduce Brayan Polyteck's products and services to its customers and attract new partnership opportunities that will generate business for the facilities management firm. Brayan Polyteck will in turn deliver its key Facility, Technical and Energy Services to Tasweek and the property company's referred clients.
Both parties have agreed to mutually fund projects on a case-by-case basis as covered by the MoU, which took effect last March 6, 2011.
"Our partnership with Brayan Polyteck will enable us to enhance our value chain in terms of facilities management and support further growth of business across the Emirates. The company's best practices will be of great help in enhancing the FM knowledge and capabilities of our management team. Our clients, on the other hand, will greatly benefit from gaining access to Brayan Polyteck's world-class FM services," said Masood Al Awar, CEO, Tasweek Real Estate Development and Marketing.
"Moreover, the rapid development of services related to real estate facility management will sustain the real estate industry's profitability and growth in the future," Al Awar added.
Brayan Polyteck Facilities Management is a division of Polyteck Building Services, a UK-based company delivering a single point of service for all building services problems which currently maintains a property asset value of over Dhs4.8bn. The division's comprehensive range of services includes planned and response maintenance, gas and electrical compliance, void management, recycling and waste management, estate cleaning, carbon minimization, stock condition monitoring, and electrical works.
Tasweek Real Estate Development and Marketing has over 20 years of innovation and leadership in delivering products and services covering Purchase and Sale of Strategic Assets; Asset Management; Joint Ventures and Strategic Alliances; and Marketing Consultancy. The company relies on its core competencies of networking and know-how to provide clients with a one-stop shop for real estate and related services and marketing.
# # #