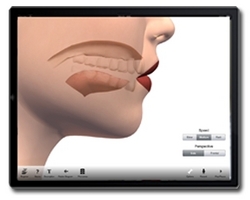 We're no longer restricted to tongue depressors and antiquated diagrams to show our clients how speech sounds are made.
Ruidoso, NM (PRWEB) March 28, 2011
Synapse Apps, LLC, the developers of the popular PocketSLP brand of speech therapy apps, has released Speech Tutor, an iPad/iPhone app that employs carefully designed video transparency technology to animate how the articulators (tongue, palate, lips and/or teeth) are used to produce individual speech sounds. Speech Tutor offers detailed animations for 21 separate phonemes. Both side and frontal views are offered and each animation can be viewed at three different optional speeds. For iPad users, Speech Tutor was optimized to take full advantage of the iPad size and resolution. Speech Tutor uses semi-transparent animation to help speech language pathologists (SLPs), SLP college students, parents of children with speech delays, and those trying to improve their American English accent. This app provides animated video, auditory, and textual information.
"This is a powerful tool for therapists and other users alike," said Corey Walker, a practicing SLP and president of Synapse Apps. "Knowing the position of the tongue and the manner in which it is produced is critical for producing sounds correctly and is not always obvious. Now, using our semi-transparent video animations, one can literally see inside the mouth as the sounds are being made."
In addition to the videos, users have access to valuable information, such as the "Basics" tutorial, which provides a foundation of the basic knowledge for non-native English speakers who wish to improve English consonants production. Speech Tutor provides professionally detailed but reader friendly text specific to each sound that further describes how each sound is technically made. For parents, the app includes tips and milestone norms for age expectancies for children's speech development. Speech Tutor is designed to help children with speech delays, including those with autism, apraxia, and others with special education needs, and of course for students of speech therapy.
According to Karen-Lopez Walker, co-founder of Synapse Apps and also a practicing SLP, "This is an exceptionally exciting breakthrough in speech therapy technology, being the first of its kind. As therapists, teaching our clients exactly where, when, and how to produce sounds is fundamental and can be quite tricky. It's a difficult and sometimes awkward thing to teach since most sounds are not visible face to face. With Speech Tutor we're no longer restricted to tongue depressors and antiquated diagrams to show our clients how speech sounds are made. I couldn't believe the difference it made for one of my first graders with a lateral lisp. Once she watched to animation of the /s/ sound, she suddenly "got it" because she saw exactly what to do with her tongue, teeth and airflow control."
Thousands of images were carefully created under the careful supervision of licensed speech and language therapists to create the smooth flowing animations offered by Speech Tutor. Coupled with the careful timing of the audio, these animations offer an unprecedented methodology for teaching the correct positions and sequence of speech sound productions. A video demonstration of Speech Tutor can be seen on at PocketSLP.com.
Synapse Apps is a pioneer in the deployment of speech therapy applications for mobile platforms, and has been widely recognized for their attention to detail and high quality products. Speech Tutor is one of four applications marketed under the PocketSLP brand by Synapse Apps. Their current portfolio of applications include their signature product, PocketSLP Articulation (iOS and Android). Other products include the five star-rated PocketSLP Minimal Pairs (iOS), PocketSLP "R" App for Parents (Android), and now, PocketSLP Speech Tutor (iOS).
To see a video demonstration of Speech Tutor or any of the PocketSLP apps, visit http://pocketslp.com.
About Synapse Apps: Synapse Apps, LLC is headquartered in Ruidoso, New Mexico. Its principal focus is on technological tools for speech and language therapy. The company was founded by Corey and Karen Walker, a husband and wife team. Both are practicing speech and language pathologists.
Contact: Karen-Lopez Walker
Public Affairs,
Synapse Apps
(575) 808-0710
http://pocketslp.com
# # #