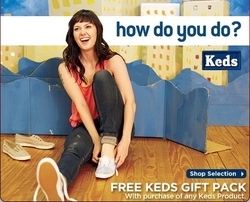 Keds may be the most well-known shoe available today. They're iconic in the world of fashion and footwear
Irving, TX (PRWEB) March 25, 2011
SHOEBACCA.COM, one of the fastest growing online footwear retailers, is pleased to announce the arrival of Keds classic brand footwear to SHOEBACCA.COM's state-of-the-art website, further expanding their vast assortment of footwear geared towards an active lifestyle.
"Keds may be the most well-known shoe available today. They're iconic in the world of fashion and footwear," says Nathan Barling, Head of Business Development and head of marketing for SHOEBACCA.COM. "They're comfortable, they come in a huge array of colors, and they go with everything."
Some of Keds' most popular styles at SHOEBACCA.COM include the women's Champion Not Too Shabby Laceless shoe, a relaxed version of the classic Keds sneaker. It comes in a variety of colors, and features the standard Keds durable rubber outsole.
The women's Tonic Mule is a lace-up shoe with a mesh lining for breathability, and contrast stitching for added appeal. The molded heel cup assures a comfy, supported fit.
Men will love the Champion Slip-On, which offers the classic Keds look with the ease of a laceless shoe. The soft cotton lining inside the breathable canvas makes this a perfect shoe for any easygoing activity.
About Keds
Created in 1916, the soft, rubber-soled Keds shoe was dubbed "The Original Sneaker." A pop culture standard for decades, Keds sneakers have been worn by such fashion icons as Marilyn Monroe and Audrey Hepburn. For almost 100 years, Keds have withstood the ups and downs of the fashion industry, and have been a staple in both fashion and sports.
This year, Keds has launched the "How Do You Do?" road tour campaign to reach out to its fans across America. Driving their 32-foot shoebox to various events and college campuses around the country, they're ramping up visibility about the Keds brand in a huge way.
When Keds rolls into your area, check out the limited edition shoes inspired by the road tour, or climb inside the shoebox to design your own Keds. Get inspiration from talented artists, enter contests, and help support local arts-based charities.
For more information about this tour, go to hdyd.keds.com.
About the giveaway
Now you can deck yourself out in Keds "How Do You Do?" gear, just by purchasing a pair of Keds from SHOEBACCA.COM. While supplies last, get a free Keds "How Do You Do?" t-shirt, keychain, and bracelet when you order a pair of Keds from SHOEBACCA.COM.
Want even more freebies? Enter the SHOEBACCA.COM and Keds "How Do You Do Your City?" Contest. Visit us here and leave a comment to explain how you would introduce us to your city. Where would you take us? What landmarks or activities make your town something special? Out of the comments, SHOEBACCA.COM will pick 5 at random and 5 favorites. Those ten lucky champions will score a free classic pair of Keds just in time to kick off their spring.
About SHOEBACCA.COM
SHOEBACCA.COM is a full-scale online retail footwear company dedicated to helping customers and their families lead active, healthy lifestyles. SHOEBACCA.COM boasts an impressive selection of athletic and outdoor footwear, apparel, bags, sunglasses, and gear. Customers can find what they want quickly and easily with SHOEBACCA.COM's custom filtration technology, while the security of the SHOEBACCA.COM website makes shopping online worry-free. SHOEBACCA.COM also offers free ground shipping, free returns, 110% price matching, and unparalleled customer service. SHOEBACCA.COM always guarantees complete customer satisfaction.
Demonstrating their passion for community involvement, SHOEBACCA.COM has worked with various charities, including Soles4Souls, American Cancer Society, Salvation Army, National MS Society, and The Boys and Girls Clubs of America. SHOEBACCA.COM has participated in numerous charity events, such as Relay for Life and the Bike MS Bay to Bay Tour, and continues to look for ways to give back to their community.
# # #