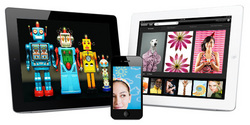 We're all about making life easier for creative people and our new iPad / iPhone app is testament to that. Now you can search through millions of images while you're on the go and find exactly what you need – all in half the time
(PRWEB) March 25, 2011
Masterfile, an industry leader in stock imagery, has launched a free new app for the iPad and iPhone that promises to make finding the perfect image easier and faster than ever.
Specifically designed to save time for art directors, designers and media professionals, the Masterfile app lets you find the images you need quickly and easily while you're on the move.
The app allows users to scroll seamlessly through an ongoing stream of millions of images from the entire Masterfile collection. And similarly to Masterfile.com, users can search by keyword or browse by category, save images in their lightbox, review past searches and enlarge images for full screen view. In addition, the app boasts Masterfile's popular SimSearch functionality, letting users see visually similar images with a tap of the finger - a further time saver.
"We're all about making life easier for creative people and our new iPad / iPhone app is testament to that. Now you can search through millions of images while you're on the go and find exactly what you need – all in half the time," says Steve Pigeon, Masterfile's President.
Masterfile's new app can be downloaded from the iTunes store.
To find out more, visit http://www.masterfile.com/app
# # #