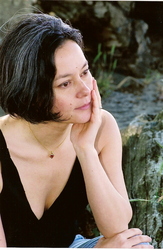 Edward Albee is a brilliant playwright and to have the chance to speak his words, to get to dive deep inside Martha who is such an amazing, complicated, contradiction of a woman, it feels like the most amazing gift has fallen into my lap.
Victoria, British Columbia, Canada (PRWEB) March 23, 2011
Brian Richmond, Producing Artistic Director of Victoria's hottest new award-winning company, Blue Bridge Repertory Theatre, announced the final casting and season of plays for the 2011 summer season at the McPherson Playhouse in Victoria, B.C. today.
"The 2011 season is a robust and entertaining one and the addition of the intrepid Meg Tilly in the role of Martha in Edward Albee's Who's Afraid of Virginia Woolf? puts it over the top for Blue Bridge," said Richmond in his season announcement. "An accomplished artist of such extraordinary talent such as Meg's, playing on the Blue Bridge Rep stage, is a testament to our growing reputation as a premiere stage for actors of reputation in North America. It is a role that only a woman of substance can play."
"I am thrilled that Brian Richmond went with his gut and gave me the opportunity to experience Martha in his production of Who's Afraid of Virginia Woolf?," said Meg Tilly. "Edward Albee is a brilliant playwright and to have the chance to speak his words, to get to dive deep inside Martha who is such an amazing, complicated, contradiction of a woman, it feels like the most amazing gift has fallen into my lap."
Meg Tilly is both an accomplished actor and award-winning author who has spent the last number of years devoting herself to raising her family and writing. She is the author of two adult novels, Singing Songs (Penguin/Dutton, A Barnes & Noble Discover Great New Writers selection, 1994) and Gemma (St. Martin's Press.) Her first YA novel, Porcupine was released by Tundra/McClelland & Stewart in Sept 2007, and was shortlisted for a BC Book Prize, The Canadian Libraries Association Best Children's Book 2008 and Foreword Magazine Book of the Year Award 2008. It also was an Ontario Library Top Ten Best Bets for 2008. First Time, a reluctant reader, was released by Orca in Nov 2008. Tilly is well-known, of course, for her work in film including: The Big Chill and Agnes of God, for which she won a Golden Globe and was nominated for an Oscar. Ms. Tilly is working on yet another rewrite of her untitled adult manuscript and her new manuscript written for the middle grades entitled, A Taste of Heaven, is out with various editors, looking for a home. Her three children are grown so she and her husband are now splitting their time between Vancouver Island and Toronto.
"My sister, Jennifer gave me a bracelet for Christmas with a George Eliot inscription on it which reads- 'It is never too late to be what you might have been.' While holding this bracelet, the thought of doing theatre came to mind and I confessed this secret desire to my sister. One thing led to another and within three weeks, not only had my sister set me up with Rich Caplan, an agent in Toronto, but he had arranged a meeting with Brian Richmond, the Artistic Director of the Blue Bridge Repertory Theatre in Victoria."
"During all those years when I was shooting films and TV, my secret desire had always been theatre. Now, at 51, with my children all grown, I am finally fulfilling that dream!"
Blue Bridge Repertory Theatre is a filling a void in the west coast cultural milieu and promises to play a significant role in Victoria's cultural life. As an Artistic Director Brian Richmond is known for creating innovative theatre, developing new work, and attracting remarkable artists who share his ethos of placing the work of the actor front and centre. His career has been punctuated with multi-media work before the term became popular. "International classics, great Canadian works and Broadway hits are all a part of the Blue Bridge mandate," said Richmond. "We intend to continue to give a home to the classics, develop our country's finest young talent and marry them with artists of exceptional stature," added Richmond.
The 2011 Blue Bridge Repertory Theatre Season:
1 Escapist Comedy, 1 Dark/Gritty Comedy, 1 Musical on Fire and 1 Superstar!
1. Blithe Spirit, June 7-19, 2011
An inspired new version of Noel Coward's Blithe Spirit will be directed by Glynis Leyshon, one of Canada's most respected opera and theatre directors and former Vancouver Playhouse and Belfry Theatre Artistic Director. She is joined by the gifted, pan-Canadian designer, Pam Johnson. The cast includes: Chris Hunt as Charles Condomine, Shaw Festival's Helen Taylor as Elvira, Ruth Brown as Ruth Condomine, Michael Armstrong and Lindsey Vukovic as Dr. and Mrs. Bradman, Rielle Braid as Edith and - as a tongue-in-cheek nod to the history of cross-gendered casting in British theatre - Brian Linds as Madame Arcati.
2. Who's Afraid of Virginia Woolf? with Meg Tilly, July 5-17, 2011
Brian Richmond will direct Who's Afraid of Virginia Woolf? starring Meg Tilly. Carole Klemm will design the set. Rounding out the cast with Ms. Tilly will be veteran actor Andrew Wheeler as George, with Jessie Award- winning Celine Stubel as Honey and Alex Plouffe as Nick.
3. The Award-winning Fire by Paul Ledoux and David Young, August 2-14, 2011
Brian Richmond produced the world premiere of Fire in 1985 and was honoured with a Dora Mavor Moore Award. The multi-award winning hit Canadian musical by Paul Ledoux and David Young is inspired by the real life relationship between Jerry Lee Lewis and the Reverend Jimmy Swaggart. Fire features classic 502s rock hits and timeless gospel tunes. "I am looking forward to introducing Fire to Victoria audiences and to working with an entirely new creative team on this exciting and moving musical." The creative team includes: music director Bruce Ruddell (composer and writer of the highly successful London- bound new musical Beyond Eden), visionary designer, Patrick Du Wors on set and costumes and Giles Hogya on lights. The cast includes: rising stars, Zachary Stevenson as Cale Blackwell, Jacob Richmond as Herchel Blackwell, Andrew Rhodes as J.D. Blackwell, Celine Stubel as Molly King, Brian Linds as Truman King along with Wes Borg, Jess Amy Shead and Marina Laegacé.
Tickets: For tickets call (250) 385-4462 or visit: bluebridgetheatre.ca
Blue Bridge office: at 920 Johnson St. Victoria, B.C., Canada from Monday to Friday 9am-5pm. or by calling (250) 385-4462.
About Blue Bridge Repertory Theatre, Victoria, British Columbia, Canada
Blue Bridge Repertory Theatre was established in 2008. Led by producer/director Brian Richmond, the founders of Blue Bridge Rep were convinced that the City of Victoria would support a new professional theatre that could offer its residents and visitors the opportunity to view world class productions of the great plays from the past while offering early career professional theatre artists the opportunity to work alongside some of Canada s most respected directors, designers and actors.
In 2009, Blue Bridge received the Victoria Theatre Critics Spotlight Award for Best Professional Production, Death of a Salesman and Best Actor, David Ferry (Willy Loman, Death of a Salesman). In 2010, Jacob Richmond was named Favourite Actor in Monday Magazine's M Awards for his role as Biff Loman in Death of a Salesman.
The name Blue Bridge Repertory Theatre is inspired by the beauty and simplicity of the Joseph Strauss designed Johnson Street Bridge that defines the entrance to the Upper harbour in Victoria BC. Offering a unique and innovative way of spanning two parts of this modern day metropolis, this bridge is the perfect metaphor for a new company that provides opportunities to an emerging generation of theatre artists while helping to redefine the nature of its city's downtown core.
# # #