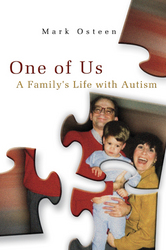 One of Us: A Family's Life with Autism is a brave dad's honest diary of raising a son with severe autism who has difficulty learning basic skills.
Baltimore, MD (PRWEB) March 24, 2011
On the eve of April as National Autism Awareness Month, Loyola University Maryland Professor Mark Osteen reveals key lessons and hard-won advice for parents from his extraordinary new book, "One of Us: A Family's Life with Autism" (University of Missouri Press). More information about the award-winning autism memoir is available at http://www.oneofusbook.com
A powerful, deeply personal narrative, "One of Us" recounts the struggles and triumphs of Osteen's life with his son, Cameron, who has severe autism. With style, wit, and courage, Osteen describes the complexities of parenting Cam and the insights gained at a time when the condition was considered rare and awareness was limited. Today, the prevalence of autism has risen to 1 in every 110 births in the United States.
According to Osteen, parents can benefit from changing their perspective, adjusting their expectations, and focusing on their child's unique abilities and characteristics. "Ultimately you have to get past the desire to change your child into the person you dreamed about, stop wishing for the child you 'lost,' and appreciate the child you have: the qualities and abilities he or she does have and the things he or she can do," explains Osteen.
Adds Osteen: "Autistic children are certainly different from typical kids in many ways; but they are like other children as well. Most of all, they want to have a voice: like every other human being, they have their own individual ideas and needs. It's important not to confuse those with your own needs and ideas."
Giving his son, Cam, and others with severe autism who can not speak for themselves a voice was the primary aim of Osteen, who notes that many memoirs tell the story of recovery from the disorder. "With 'One of Us', I wanted to tell a different story – about the triumph of love over adversity and about a child as he is," notes Osteen.
In fact, "One of Us" is distinctive because it paints a detailed portrait of Cam's fascinating and frustrating uniqueness and for its candid account of the struggle of Osteen and his wife to keep their marriage – and hope – alive. Autism is revealed not just as an individual disorder, but as a family condition that changes everyone involved. "My wife and I became 'autistic' -- before we learned to 'be autistic' in more positive ways," Osteen notes.
For noted author Temple Grandin, who has endorsed the book, "One of Us: A Family's Life with Autism", is "a brave dad's honest diary of raising a son with severe autism who has difficulty learning basic skills." Other readers have echoed the words of this parent: "It's refreshing to have a book that discusses the reality of living with autism and faces the truth of the matter that recovery is rare."
To illuminate the realities of living with autism and support parents who are dealing with challenges of raising a child with autism, Osteen is participating in numerous educational events for April as National Autism Awareness Month]and May as National Mental Health Awareness Month. More information about these and other events is available at http://www.oneofusbook.com.
Highlights include a presentation at Maryland's Baltimore County Public Schools' "Honestly Autism Day" on April 2, a talk at Baltimore's Enoch Pratt Central Branch on April 5, and a panel discussion, "Listening to Autism," at Loyola University Maryland on April 12. Mental Health Month events include a reading at Barnes & Noble – Johns Hopkins University on May 2 and a talk at Virginia's Loudoun County Public Library on May 21.
About the Author
Mark Osteen, Professor of English at Loyola University Maryland, has written extensively about autism and the humanities. Excerpts from "One of Us" have won the O. Marvin Lewis Award from Weber – The Contemporary West. Osteen is also the author of two books, including American Magic and Dread: Don DeLillo's Dialogue with Culture. Osteen and his wife, Leslie Gilden, reside in Baltimore, Maryland.
"One of Us" is available at local bookstores, online retailers, or directly from Chicago Distribution Services. Additional information is available at the online media kit: http://press.umsystem.edu/media/osteen.htm.
For more information on this title, for excerpt possibilities, or to interview the author, please contact Vicki Aversa at vicki (at) aversacommunications (dot) com or (410) 338-0318.
###