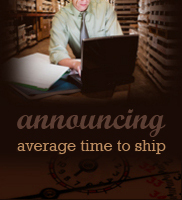 Cary, NC (PRWEB) March 24, 2011
Net32 today reported that it added a new Average Time to Ship feature to its free marketplace for dentists at net32.com, to help dentists determine when products will be shipped.
Dr. Pat Cassidy, CEO of Net32, stated "We recently completed a post-order survey of 2000 of our customers. It was clear from the survey results that our customers, more than anything, wanted a better answer to the question 'When can I expect to receive my dental products?' Today I am pleased to announce the addition to our marketplace of Average Time to Ship for every vendor and every product that customers buy in our marketplace. Starting today, seasoned Net32 customers as well as first time buyers can enjoy the advantages of selecting vendors' products based on a combination of price and service rather than price alone.
Cassidy went on to say "When we analyzed data on vendor performance, it was very gratifying to find that most vendors were already doing very well getting products out the door, with top vendors shipping within one to two days. With the advent of Average Time to Ship showing on 80,000 product detail pages, all Net32 vendors will be motivated to increase chances of sales by paying attention to both the pricing and shipping times for their products. We believe that shipping times will improve even further, and that dentists across the country will have greater confidence in the Net32 comparison shopping experience than ever before. The new feature can be seen by clicking here"
About Net32, Inc:
Net32 saves businesses money with industry specific comparison shopping marketplaces. Vendors get global access to their target market and buyers get industry leading savings. Founded on the premise that there is no better way to drive down pricing than competition, business owners shop from multiple vendors in a single marketplace, providing them with the easiest way to control costs, acquire quality products, while expending the least amount of time and energy. Vendors Compete. Businesses Save.
###