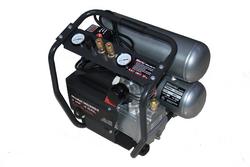 It's a pleasure to work with a company that understands the benefit that ISO certification brings to its customers.
Irvine, CA (PRWEB) March 25, 2011
The manufacturing parent of Harrier Industries, LLC is compliant with ISO 9001:2000 certification standards. This certification, the most widely recognized international standard for quality management systems, is another important part of maintaining a leading position in the air compressor and pumps industry sector.
"This is an important piece of information for everyone doing business with Harrier and our exclusive distributor, MJB Supply, LLC," says Jeff Lassle, VP of Operations for Harrier Industries. "Our reputation for providing high quality products and outstanding customer service is further enhanced with ISO certification. It assures that our manufacturing facility is committed to the continuous improvement of our quality management systems to meet the current and future demands of our customers."
Buzz Burton, Division Manager of MJB Supply, LLC, adds, "It's a pleasure to work with a company that understands the benefit that ISO certification brings to its customers. It's further evidence of Harrier's ongoing dedication to producing superior products and achieving high levels of customer satisfaction."
The International Organization for Standardization (ISO) is a network of the national standards institutes of over 150 countries. The ISO 9001:2000 certification specifies requirements for a quality management system. It includes processes for continual improvement of the system and the assurance of conformity to customer and applicable regulatory requirements
Harrier Industries, LLC is an American company with roots in China specializing in the manufacture of air compressors, air pumps and industrial tools. In business for over 15 years with a strong output capacity and a singular dedication to the motto "Reputation Comes First", we have played an integral part in the tools industry throughout the world. For additional information on our products, please visit http://www.harriertools.com.
MJB Supply, LLC specializes in the sales, marketing and distribution of consumer and industrial grade tools and equipment throughout the United States. We leverage our core strengths to identify the right tools and equipment your customers need and ensure reliable, accurate, and timely delivery of those products – with the best pricing possible. Find out more about MJB Supply at http://www.mjbsupply.com.
# # #