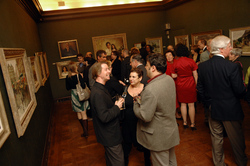 San Antonio, TX (PRWEB) March 23, 2011
Tuesday, March 22, American realist painter Clark Hulings' six-decade career was celebrated with friends, family and collectors from around the world. In attendance were fashion designer Bibhu Mohapatra, Kip Forbes, Julia Alarcon from Sundance's 'All on the Line', Ari Helgason of Fabricly.com, Jack Morris of Morris & Whiteside Galleries, Peter Trippi - Editor of Fine Art Connoisseur Magazine, and the artist's widow, Mary Belfi Hulings, and daughter, Elizabeth Hulings.
The show will be in the space till June 18th 2011 and will be accessible for free to the public.
The Forbes Galleries' timely show, Reflections: Celebrating the Life of Clark Hulings, offers the public a rare glimpse into Hulings' unique vision. The combination sale and retrospective exhibit includes masterpieces treasured by family and collectors, many of them never before displayed publically. Of the 48 works on display, 21 will be offered for sale by minimum-bid, silent auction this Friday, March 25, 2011 in the galleries of Morris & Whiteside Galleries, Hilton Head Island, South Carolina. For more information about the auction, please call 843-842-4433.
Clark Hulings respected the ordinary and made it extraordinary. He created his own formula for expressing beauty, which he often uncovered in places where others might see only misery. Hulings traveled extensively throughout his life, scouring remote countryside and faraway towns for subject matter well into his eighties. Lauded for his brilliance at manipulating values, perspective and composition, Hulings' technique was a marriage of traditional and cutting edge - a combination of formal training, life experience and a willingness to experiment to achieve his desired effects. He employed a smorgasbord of strategies culled from many schools of painting.
The Forbes Galleries, located in the heart of Greenwich Village, are tucked within the lobby of Forbes Magazine's headquarters in New York City. Rotating exhibitions are showcased throughout the year in four changing exhibition spaces. The Galleries are open free to the public 10:00 a.m. – 4:00 p.m. Tuesday through Saturday. For more information, please visit forbesgalleries.com or call 212-206-5548.
###