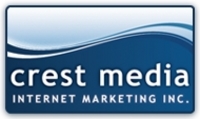 Glendora, CA (PRWEB) March 25, 2011
Crest Media, Inc., a company facilitating search engine optimization (SEO) and web design, implements strategies for conversion rate optimization to help generate more sales for clients. The number of sales resulting from internet marketing tends to fluctuate; realizing this fact, the Crest Media professionals create a unique experience for landing page visitors with the aim of converting a larger percent of visitors into clients.
Additionally, Crest Media offers a wide range of services, such as, online video production, email marketing, Pay Per Click (PPC), interactive and social media marketing (SMM). Researching keywords, building relevant links, determining the client's target market and copywriting are some of the other services included in the company's inventory.
The web designing services offered by Crest Media surpass basic construction. It includes incorporation of additional features such as, video streams, flash animations, chat functions as well as virtual tours to offer clients the necessary business edge. Furthermore, the company specializes in developing custom websites – one that is well designed, easy to navigate and exhibits a high level of professionalism to potential customers.
Crest Media boasts of having designed PennyBailBonds.com, AshleyChildersMusic.com and the Los Angeles Constitutional Congressional Coalition (LACCC) website, among others. The company has also several website redesigning projects to its credit – JoesAutoCenter.com, StuartRogersStudios.com and SusanNelsonArt.com.
Praising the high professionalism displayed by the company, David Lin of the VivitekCorp.com, said, "Crest Media has a very professional team to design our website with amazing results. Especially on quick response and all the supports needed".
James Kruger, owner of Gorlitz Sewer & Drain, Inc. extolled Crest Media in high-flown words saying, "We are delighted with our site and equally delighted with the professional and lightning fast service we got from Crest Media. I'd have no hesitation in recommending Crest Media as a top notch web design company."
About Crest Media, Inc:
Mike, the CEO of Crest Media, once worked for a marketing agency whose inferior products and shoddy customer treatment motivated him to start a company which would value clients and hold business ethics in high regard. Thus, he founded Crest Media, Inc which remains focused on quality customer service at reasonable prices. All websites developed by Crest Media are custom-built, functional and aesthetically pleasing.
###