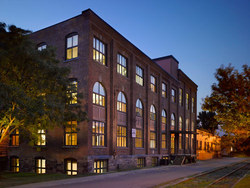 "The new facility will more than double our current space and allow us to continue to expand as needed." - Charles 'Chach' Curtis, CEO, Draker Labs
Burlington, VT (PRWEB) March 24, 2011
Draker Labs, a provider of high performance turnkey monitoring systems for large commercial and utility-scale solar photovoltaic (PV) systems, is moving into new, larger offices on April 1, 2011. The company's new offices will be located in the Maltex building at 431 Pine Street in Burlington, VT. The move reflects significant growth the company experienced during 2010 as well as future expansion plans.
Commenting on the upcoming move, Draker CEO Charles 'Chach' Curtis noted that the company doubled its staff in the past 12 months and expects to do so again in the coming year. "The original Draker building has served us well over the past 10 years but given recent and projected growth we knew we needed more space. The new facility will more than double our current space and allow us to continue to expand as needed." Curtis added that, "We are excited to be moving into the Maltex building, a beautifully renovated historic property situated near Lake Champlain and at the center of what is fast becoming a hub for technology companies located in the Burlington area."
Draker's new offices are being outfitted to accommodate the company's manufacturing, operations, hardware and software development, and sales and marketing groups. Draker's executive offices will also be located at the new facility. The company will continue to maintain a west coast operations and sales office located at 1029 H Street, Suite 301 in Sacramento, CA.
Draker's main phone and fax numbers will remain unchanged. Effective April 1, 2011, the company's new address will be:
Draker Labs
431 Pine Street, Suite 114
Burlington, VT 05401
###