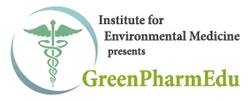 Over 500,000 poisonings of children under the age of six occur every year due to pharmaceuticals and medications. It is one child every minute.
Berkeley, CA (PRWEB) March 24, 2011
Today, the Institute for Environmental Medicine releases GreenPharmEdu in order to educate medical professionals about the dangers of unused medications.
GreenPharmEdu is an online continuing educational program designed to deliver high-quality curricula for medical professionals to help reduce the presence of unused pharmaceuticals in households and the environment. GreenPharmEdu offers three hours of unique curricula for physicians. The program is available free of charge for everyone. Continuing education credits are available for a nominal cost of $25.
"The reality of the widespread presence of unused medications in households poses a significant and increasing challenge to human health, especially to children," says Teleosis Institute's founding Director Dr. Joel Kreisberg. "Educating healthcare practitioners about ways to properly dispose of unused medications, including OTC medications and nutritional supplements, are an important step to averting an increase in accidental poisonings and keeping children safe. Currently most health professions have little exposure to the issues and often do not see the relevance of this topic," he added.
Unused drugs that are not properly disposed of can end up in the hands of children. Over 500,000 poisonings of children under the age of six occur every year due to the ingestion of pharmaceuticals. According to the National Center on Addiction and Substance Abuse, individual addiction to pharmaceuticals has risen 203 % over the last 10 years. 15 million Americans are abusing pharmaceuticals currently -- more than the combined total of cocaine, hallucinogens, inhalants and heroin. Roughly 54% of consumers dispose of their unused drugs in the trash and 35% flush them down the toilet, according to research published by the Eisenhower Army Medical Center.
"Concerns regarding pharmaceutical use are traditionally viewed as ending with the patient whether the symptoms improve, persist or deteriorate," say Dr. Ilene Ruhoy, co-author of GreenPharmEdu and director of the Institute for Environmental Medicine, Touro University Nevada. "Unfortunately, the unintentional results of a single prescription may have serious impacts on the health of children and teens." Dr. Ruhoy argues "All primary care physicians should gain a basic knowledge of the risks and the solutions."
Due to the steady increase in prescriptions and the demand for over-the-counter drugs and nutritional supplements, medicines are increasingly accumulating in households in the United States. Unused drugs have considerable impact on the social and physical environment, including an increase in childhood poisoning, theft, misuse, abuse, environmental risks and inappropriate international donations.
The GreenPharmEdu program includes a focus on the most current evidence for the environmental burden of left-over drugs and the most prudent actions healthcare professionals can take to minimize unused drugs ending up in the hands of children or waste streams. Further modules will be released reviewing the most up-to-date research on patient compliance and adherence, unnecessary or imprudent prescribing, stewardship-based medicine and current methods for disposing of unused drugs. GreenPharmEdu uses state of the art online technology to provide easy access to the most up-to-date information, evidence and solutions for reducing unused pharmaceuticals.
"A sustainable solution to this growing problem requires a broad educational campaign targeted directly to providers so that they can take responsible action in reducing this persistent problem," Kreisberg added.
The course is a result of a collaboration of healthcare professionals including Ilene Ruhoy, MD, Institute For Environmental Medicine, Touro University Nevada; Joel Kreisberg, DC, Teleosis Institute; Forest Batz, PharmD, University of Hawaii at Hilo College of Pharmacy; Karen Bowman, MN, RN, COHN-S, Washington State Nurses Association; Frederick S. Mayer, R. PH, MPH, Pharmacists Planning Service; and Maureen Phillips, Former Chair of Healthcare Without Harm's Nurses Pharmaceutical Workgroup. The program is a partnership between the Institute for Environmental Medicine, Touro University and the Teleosis Institute. The program is underwritten by the Abbott Fund.
About The Teleosis Institute
The Teleosis Institute is an educational non-profit organization devoted to reducing the environmental impact of health care. The Institute promotes sustainable medical practices in partnership with the health care community to build a movement for positive social and environmental change. Our programs include: The Green Health Care Program and the Green Pharmacy Program.
About Institute for Environmental Medicine Touro University Nevada
Founded by Dr. Ilene Ruhoy, MD, in 2010, the Mission of the Institute for Environmental Medicine is to create a medical system that supports sustainable healthcare. Through research, education and advocacy, the Institute's programs provide the evidence, knowledge and actions necessary to support health professionals in creating healthy people, healthy communities and a healthy environment.
# # #