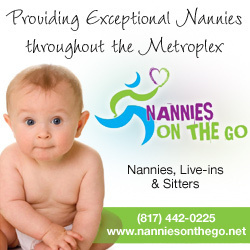 "With Nannies as a "profession on the rise", we believe it is critical to offer continuing education to our Nannies" says Sharon Moloney, founder of Nannies On The Go in Southlake."
Southlake, TX (PRWEB) March 24, 2011
By 2014 the U.S. Department of Labor predicts employment for all child care workers will be growing faster than the average pace of employment. The department notes that job opportunities for nannies should be particularly strong.
"With Nannies as a "profession on the rise", we believe it is critical to offer continuing education to our Nannies" says Sharon Moloney, founder of Nannies On The Go in Southlake. Without a doubt, experienced and educated Nannies will contribute to the long term success of our children. Keeping the caregivers informed and armed with the latest information should be a priority for all parents.
Beginning March 26th, Nannies On The Go based in Southlake, Texas will launch a four part series of lectures covering various childcare subjects. Keeping the children safe, identifying personality traits and effectively managing family dynamics are some of the topics that will be discussed. These classes will be taught by recognized experts in our industry who have extensive backgrounds in research and the newest approaches to soothing children. Sharon Moloney, founder of Nannies On The Go, states, "Continued, consistent education for the people that care for our children is vital for our future. I truly hope the government recognizes the need to financially support programs that will allow all care givers the opportunity to take part in these much needed classes."
One of the lecturers is Dr.Caron Goode, the author of fifteen books. The most recent are the award-winning Raising Intuitive Children, the international best seller, Kids Who See Ghosts, guide them though fear, Help Kids Cope with Stress and Trauma, and The Art and Science of Coaching Parents. Her expertise appears in national magazines such as Better Homes & Garden, Working Woman, Mothering, and Inspired Parenting. Caron's is a frequent radio show guest speaking on topics like The Intuitives, Coaching Skills for Parents, Optimizing Talents, Focused-Marketing for Coaching Businesses and Infopreneur Product Development – from blog to book.
Another expert who is leading a program is Kay Willis. Kay is an RN with over 23 years in Women's Services. She is the founder of Nesting Place in Grapevine. Kay has been teaching childbirth and baby care classes since 1992 and an IBCLC (certified lactation consultant) for over 7 years. She believes that starting a family should come with a manual that meets each individuals goals and sharing realistic expectations with new parents helps them to set those goals.
Please go to our website for the agenda and specific information. http://www.nanniesonthego.net
Date: Saturday, March 26th, 2011
Time: 1:00pm
Location: Omni Mandalay Bay Hotel
# # #