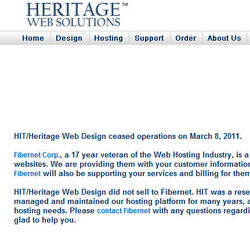 Dundee, IL (PRWEB) March 24, 2011
As reported on their official website, HIT/Heritage Web Design ceased operations on March 8, 2011.
While the specific details were not disclosed on the HIT/Heritage website as to why the company has shut down, the news comes after a considerable amount of bad press and reports from consumers.
For example, the Better Business Bureau has tracked an estimated 1,000 complaints, leaving the company with no accreditation status. Furthermore, hundreds other complaints have surfaced on popular website communities and even on television once a private investigation was launched.
So the big question is where do their existing customers go?
Finding a reputable web design company that can offer a broad range of custom solutions is challenging.
The answer to that question appears to be DreamCo Design.
DreamCo Design, a professional web design company, has already received numerous calls from past HIT/Heritage customers requesting their projects receive a second look. While DreamCo Design can offer no recourse in regards to any transaction which may have previously taken place, they can provide customers with what they want; a reliable and professional website.
Prior HIT/Heritage customers will find relief in seeing DreamCo Design's (A) rating with the BBB, paired alongside hundreds of testimonials. With large companies and world leaders alike having put their trust into DreamCo Design, the decision for prior HIT/Heritage customers should be that much easier.
DreamCo Design has also published a special article on their website for HIT/Heritage customers to read. Their offering, at the very least, should relieve the pain of having to fully re-invest in a project and they are encouraging all prior HIT/Heritage Web Design clients to review the important article. It can be found here: http://www.dreamcodesign.com/blog/industry-news/hit-web-design-closed.
If your business is looking for professional web design or internet marketing, you can visit the official website of DreamCo Design or complete a search engine lookup. We always suggest the business you select be reviewed with an independent and reputable organization such as the BBB prior purchase.
# # #