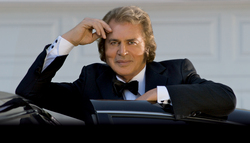 One of the finest voices in our business and the consummate showman
Los Angeles, CA (PRWEB) March 24, 2011
For nearly fifty years APA has represented many of the most talented artists in all areas of the entertainment industry. Now they can add legendary singer Engelbert Humperdinck to that prestigious list because the "Humper" has signed a deal with APA for worldwide representation covering all platforms – music, branding, commercial and traditional television & film! Consistently one of the top booking agencies in the country, APA's concert department represents a diverse slate of clients from all over the world and Enge's 45+ year career is a shining addition to their roster. According to APA's Jim Gosnell, "We are thrilled to have signed iconic star Engelbert Humperdinck. It is a true honor and pleasure to be working with him." "We are devoted to exploring unique and creative ways to showcase the many talents Engelbert has to offer and continue building the Engelbert Humperdinck brand, " seconds the agency's Keith Naisbitt.
"One of the finest voices in our business and the consummate showman" according to APA's Jeff Witjas, Humperdinck himself has quite the list of accomplishments under his belt. He's been nominated for FOUR Grammy's, won a Golden Globe for "Entertainer of the Year," had Jimi Hendrix and the Carpenters as his opening acts, topped the Beatle's on the charts keeping their hit Strawberry Fields from ever reaching # 1, and toured with Elvis Presley. Few realize that it was Humperdinck, not Elvis, who made famous the sideburns and flamboyant outfits. Engelbert often jokingly asserts that Elvis "stole" the image from him. Nevertheless, the two legends often performed one another's songs, and enjoyed a lasting friendship until Elvis' death. Engelbert has sold over 150 million albums and boasts one of the most impressive fan bases on the planet to rival Lady Gaga. He has recorded everything from the most romantic ballads to the platinum-selling theme song "Lesbian Seagull" for the latest Beavis and Butthead movie.
The Humper himself is "very excited to be working with Keith Naisbitt and all at APA. Both the music department and the television, branding & commercial departments are filled with great agents and when you put them together with an international music legend, only good things can happen," says Scott Dorsey, Personal Manager to Engelbert Humperdinck.
With 63 gold, 24 platinum records and a star on the Hollywood Walk of Fame, Humperdinck might rest easy on his laurels. Hardly. In the past few years, he has joined in elite group of musical artists who have crossed over successfully to strike a new chord with a younger generation. Engelbert just finished a brand new studio album "released" with award winning producer Paul Wiltshire and is currently touring the US through 2011.
###