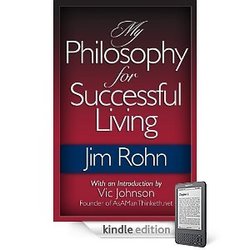 My Philosophy for Successful Living
Melrose, FL (PRWEB) March 25, 2011
The late personal development icon, Jim Rohn, didn't live to see it but his latest book also becomes his first ebook released as a Kindle edition title at Amazon.com. Demonstrating the continued popularity of Rohn's message, it's quickly moved to the Top 2% of Kindle sales at Amazon since its late February release. The book, "My Philosophy for Successful Living," is the result of an interview he did with entrepreneur Vic Johnson at a personal development event held in Dallas.
Rohn's down to earth wisdom and teachings continues to influence new generations and can be found throughout the book. Readers will find chapters such as The American Economic Ladder and Girl Scout Cookies, Refining and Strengthening Your Personal Philosophy, Your Financial House and Measuring Success, and Six Steps for Leading an Extraordinary Life.
A motivational speaker, author and entrepreneur, his popular stories of rags to riches success played a large role in his personal development courses and materials. Rohn died in Dec. 2009, after a lifetime of helping others attain their dreams and ambitions. He influenced over 5 million people over the span of more than 40 years. He was a mentor to such well-known entrepreneurs and authors as Tony Robbins, Harvey Mackay, Mark Victor Hansen and Les Brown.
Rohn was a popular and highly sought motivational speaker around the globe. His philosophy was to make people feel that they received value for their money, and that they used their time wisely. He was a master motivator who taught that, "If you bring value to the marketplace you'll be rewarded."
His philosophy is just as relevant today as it was when he first began speaking. He grew up on a farm in Idaho and was on a first name basis with hard work. He took his work ethic, combined it with a gift for gab and his personal charisma, and turned it into a personal development empire that was famous the world over.
He had a unique understanding of human behavior and his ability to motivate others was legend. Stories of how his days on the farm and the lessons he learned helped him achieve his own personal success were highlights of his motivational sessions. He not only taught people motivation, he demonstrated it through is personal experiences.
Rohn wrote a number of books during his lifetime, including "Five Major Pieces to the Life Puzzle," "7 Strategies for Wealth and Happiness," "Seasons of Life," and "12 Pillars." He also created countless audio and video programs, eBooks, digital materials and personal development courses.
His materials helped motivate and shape a new generation of personal development trainers, hundreds of corporate executives from some of the most well known companies in the U.S. and abroad, and millions of individuals worldwide. He spoke numerous times to sold-out audiences in Russia and other former communist countries because he believed they were ripe for his predominantly entrepreneurial message.
Those who purchase the Kindle version will also receive a special offer for a free Jim Rohn audio. To purchase "My Philosophy for Successful Living" visit Amazon.com.
# # #