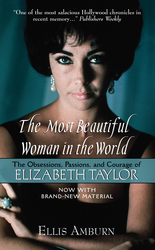 "Being the most beautiful woman in world doesn't guarantee a happy love life, but it surely did give her a passionate one." —New York Times bestselling author Susan Elizabeth Phillips
New York, NY (PRWEB) March 23, 2011
As the world mourns the passing of a legendary female, let us not forget to celebrate her glorious legacy. Noted reporter, editor and author Ellis Amburn venerates Elizabeth Taylor in the newly-updated THE MOST BEAUTIFUL WOMAN IN THE WORLD: The Obsessions, Passions and Courage of Elizabeth Taylor (Harper, $7.99). The edition includes up-to-the moment information about the iconic star, chronicling not only her theatrical career and storied love affairs, but sharing insight about Taylor in recent years--as her health declined, her soul still shone bright.
Taylor, quoted earlier this year in Harper's Bazaar as saying, "the things that are important to me (are) being a mother, a businesswoman, an activist ... I always wanted to connect with people in some way other than movies." And as evidenced by the outpouring of love and affection upon her passing, the world continues to embrace Taylor, who lived by the motto "the more, the better" (TV Guide) – and as noted by USA Today, she was larger-than-life until the very end.
THE MOST BEAUTIFUL WOMAN IN THE WORLD is a magnificent biography of the Academy Award®-winning actress and legendary beauty. The book captures the unparalleled Elizabeth Taylor in all her tragedy and splendor -- her tumultuous loves, her doomed affections, her shocking excesses, her courage, and her inimitable style. Amburn reveals stunning revelations about the men in Taylor's life -- Burton, Clift, Hilton, Dean, Fisher. The book details Taylor's life in recent years, sharing information about her health concerns, her unswerving devotion to Michael Jackson and her reaction to his untimely death, her appointment by HRH Queen Elizabeth II as Dame Commander of the British Empire and Taylor's work to support gay rights. THE MOST BEAUTIFUL WOMAN IN THE WORLD is a candid, incandescent retelling of Taylor's life is cinematic in scope, and provides a glorious celebration of a brilliant star that none in Hollywood or heaven could ever outshine.
About the Author:
Ellis Amburn worked as a reporter-researcher at Newsweek before becoming a book editor at Putnam, where he edited Jack Kerouac, John Le Carre, William Golding, Edward Albee, and Paul Gallico. He was also editor-in-chief at Delacorte, and at Morrow, an editor and collaborator on books by Shelley Winters, Sammy Davis, Jr., Lana Wood, and Priscilla Presley on her #1 bestseller, ELVIS AND ME. He is the author of DARK STAR: THE ROY ORBISON STORY; PEARL: THE OBSESSIONS AND PASSIONS OF JANIS JOPLIN; BUDDY HOLLY; and SUBTERRANEAN KEROUAC.
The Most Beautiful Woman in the World: The Obsessions, Passions and Courage of Elizabeth Taylor
By Ellis Amburn
Available editions:
E-Book ISBN 9780062096920 (on-sale 3/25/2001)
Mass Market ISBN 9780061014086 (on-sale 4/19/2001)
# # #