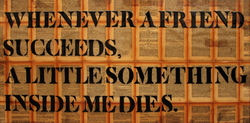 "The show reflects my exploration of the ties that bind and define you—positive, as well as dark and negative," says artist Shelle Mannion.
Beverly Hills, CA (PRWEB) March 25, 2011
Iconic gallery The Celebrity Vault solidifies its role as purveyor of Beverly Hills' best in both classic and modern art by hosting the premiere of Noiritage, a multimedia show by German-born artist Shelle Mannion, on Friday, April 1 from 6-10 pm. This exclusive show features 12 mixed media pieces created with a wide array of challenging materials, from antique text and leather, to stingray skin, skulls and lace. Sponsors include Arta Tequila and Jam Wines.
The works that comprise Noiritage exude the unique perspective that stems from the artist's German heritage. Born in Berlin, Shelle was raised by her grandparents, who were both survivors of World War II, until she moved to the United States at age 12. Their recollections of the atrocities they experienced during the war left an indelible mark on Shelle and inspired many of the pieces in Noiritage.
Each work evidences her interest in beauty, as well as the darker side of humanity, and in some cases, the macabre. "The show reflects my exploration of the ties that bind and define you—positive, as well as dark and negative," says Shelle. "Several pieces explore the relationship of our second, chosen family—our friends. The comfort they can provide but also the pain and jealousy they can cause."
Almost all the pieces in Noiritage pay homage to Shelle's German heritage, conveying an undercurrent in the form of the German text backing them. In addition, the show features several clever pieces containing German words that are commonly used in English, such as Doppelganger and Schadenfreude. Although the works range from witty to somber, each offers an interesting and unique perspective.
Located at 345 N. Canon, in the heart of Beverly Hills, the Celebrity Vault is a popular destination for locals, celebrities, and royalty, and a compulsory spot for tourists from all over the world. Launched in March 2006, The Celebrity Vault has been featured by numerous media outlets, such as People Magazine, Entertainment Tonight, LA Times, and Billboard Magazine, among others. The gallery is open Sunday - Thursday from 11am - 6pm, Friday - Saturday from 11am - 10pm and by private appointment.
About Shelle Mannion
Born and raised in Berlin until moving to the United States at age 12, Shelle Mannion's passion for art was apparent at a very young age and manifested as her proclivity for creating innovative pieces from challenging and diverse materials. Her first show in Los Angeles, Noiritage evidences strong ties to her German heritage woven into themes of familial history, loyalty and noir tinged aesthetics, inspired by her grandparents' firsthand accounts of the atrocities they survived during World War II. Consisting of 12 mixed media pieces, Noiritage conveys her innate fascination with the macabre and the juxtaposition of light and dark, resulting in an unforgettable show filled with unique perspectives. For more information, visit http://www.ShelleMannion.com.
About The Celebrity Vault
Located in the heart of Beverly Hills, The Celebrity Vault is the premier gallery for iconic celebrity and Rock 'n Roll photography and fine art. It exclusive and extensive collection includes original works by iconic photographers including Frank Worth, Bert Stern, Douglas Kirkland, Gered Mankowitz and renowned sports photographer Neil Leifer, among others. The consummate gallery hosts exclusive shows and book signings for the top echelon of artists. For gallery hours and more information on available prints, events, and exhibiting artists, please visit http://www.TheCelebrityVault.com.
###